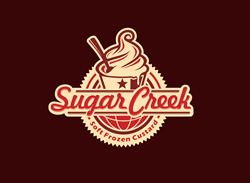 ...additional new categories have been a game changer in a rapidly evolving frozen dessert world...
Russellville, AR (PRWEB) May 15, 2014
Sugar Creek Foods International, Inc., maker of Honey Hill Farms frozen yogurt will feature its new soft-serve frozen dessert products this weekend at the 2014 National Restaurant Association show at Chicago's McCormick Place. Sugar Creek has crafted additional indulgent Honey Hill Farms frozen yogurt flavors and introduced four new and exciting soft-serve dessert categories under its Sugar Creek label. Beginning this Saturday, they will feature their new soft-serve Gelato/Reduced Fat Ice Cream, Custard, and soft-serve Italian Ice in addition to their new frozen yogurt flavors. Sugar Creek Foods, a pioneer in the use of bulky flavorings such as fruit purees, cookies, flavor droplets, and nuts in its Honey Hill Farms' soft-serve frozen yogurt products, is incredibly proud of their new indulgent yogurt flavors as well as the exciting expanded line of Sugar Creek soft-serve categories.
Scott Van Horn, President and partner said, "These are very unique products for the soft-serve and self-serve frozen dessert industry. We are constantly testing and designing products for our customers that will separate their shop from all others." Bud Gunter, VP Sales and partner added, "Indulgent frozen yogurt flavors such as Mint Chocolate Chip, Crispy Rice Treat, Cherry Limeade Sorbet, Southern Butter Pecan, Banana Bread, Blue Moon (a unique fruity cereal flavor), and Honey Cinnamon Graham Cracker have without a doubt complemented our current low-fat and non-fat lineup. We strive to give our frozen yogurt shop customers an edge in an ever-competitive frozen yogurt business, just as our bulky flavoring offerings have. Seldom does a yogurt producer create and introduce new flavors that have had such a positive impact for our stores as these have. These flavors will immediately have an opportunity to become favorite indulgent flavors with our customers. I think they will rival our Rocky Road, Sea Salt Caramel Pretzel, Dreamy Dark Chocolate, Cookies 'N Cream, Cupcake, Birthday Cake, Cheesecake, and Tahitian Vanilla, all customer favorites."
Since the March 1st 2014 launch, Van Horn and Gunter both commented that the additional new categories have been a game changer in a rapidly evolving frozen dessert world and are quickly becoming top-sellers among their end-users. "Rich, indulgent soft Custard swirled with sweet, tangy Italian Ice combine the best of both worlds and create the very popular Gelati. Custard, Gelato/Reduced Fat Ice cream and Italian Ice, reminiscent of what you'd find in a traditional hard-pack, is a challenge to reproduce in a soft-serve product that has to run through a soft-serve machine," stated Van Horn. "We believe it's another unique category and is surprising the industry just like our bulky indulgent frozen yogurts did over the last few years," commented Gunter. Sugar Creek Foods will continue testing other indulgent flavors, using the same type of bulky flavoring system to round out their new category offerings. New soft-serve Gelato/Reduced Fat Ice Cream flavors that debuted this spring are: Peanut Butter Fudge, Chocolate Chip Cookie Dough, Yellow Cake Batter, Jamocha, and Strawberry Shortcake. Expanding beyond frozen yogurt by adding these exciting selections will be critical to the success of the self-serve or traditional frozen soft-serve shop business, and Sugar Creek Foods plans to continue to be on the cutting-edge of soft-serve product development.
Van Horn commented, "Over the last few years we have seen a boom in the frozen yogurt business, however as many areas become over saturated and the newness wears off, the timing was right to offer additional products that complement frozen yogurt, especially in a self-serve environment. Although frozen yogurt has continued to increase in sales annually, the opportunity to increase revenue now lies in attracting more consumers." Gunter also added, "It's important to help our end-user shops attract the customer numbers of the early days and combine it with the customization of self-serve soft serve. This offers our customers' shops an opportunity to capture new sales by becoming a one-stop shop for the frozen dessert eaters. Our customers now offer: Frozen Yogurt, Greek Frozen Yogurt, soft-serve Custard, Gelato/Reduced Fat Ice Cream, and soft-serve Italian Ice, allowing them to cater to just about every taste out there. Combined with self-serve customization this is the perfect storm for higher consumer traffic." Sugar Creek Foods is excited to take the next step in creating self-serve customization and providing the opportunity for shops to satisfy many tastes."
About Sugar Creek Foods International, Inc.
Sugar Creek Foods International, Inc. is a leader in the frozen yogurt and custom frozen soft-serve mix industry. For over 65 years, Sugar Creek has pioneered development, production, and marketing of frozen soft-serve dessert mixes. The Company operates a production facility in Russellville, AR, which manufactures its national brand Honey Hill Farms soft-serve frozen yogurt, which uses real dairy and contains live active cultures. Sugar Creek offers branded and private label frozen yogurt, ice cream, Italian Ice, frozen custard, sorbet, & smoothie mixes. Sugar Creek's end-user customers include frozen yogurt shops, convenience stores, quality restaurants, ice cream shops, custard shops, colleges, foodservice locations, and international chain accounts. http://www.thehoneyhillfarms.com http://www.getsugarcreek.com