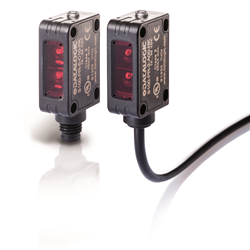 Telford, PA (PRWEB) May 15, 2014
Datalogic is proud to announce the new S100 Miniature Photoelectric Sensor series.
With its standard miniature dimensions of 20x32x12 mm and a unique layout with four mounting holes, the S100 line is a universal solution for all mounting needs.
Competitive pricing, combined with standard optical functions, make this new sensor the ideal detection solution for applications in automated manufacturing machines and logistic lines that require many sensors.
Another advantage of the S100 is its quick and simple installation. With no adjustment required, the S100 series reduces set-up time and eliminates the risk of tampering with the equipment. This distinctive feature can be particularly useful in applications where a large volume of photoelectric sensors are being installed, requiring simple and fast maintenance.
The S100 series offers a complete range of models: Through-beam at 12m; Retroreflective at 8m and Polarized Retroreflective at 5m and 2m; Diffuse proximity at 30cm and 50cm; Fixed Focus at 70mm; Background Suppression at 100mm. All models are offered with an M8 connector or 2m cable, with either NPN or PNP outputs.
Typical applications for the new S100 miniature photoelectric sensor are automatic machines and packaging lines in the manufacturing industry as well as conveyors, sorting lines and automated warehouses in the logistics industry.
Datalogic Group is a global leader in Automatic Data Capture and Industrial Automation markets. As a world-class producer of bar code readers, mobile computers, sensors, vision systems and laser marking systems, Datalogic offers innovative solutions for a full range of applications in the retail, transportation & logistics, manufacturing and healthcare industries. With products used in over a third of world's supermarkets and points of sale, airports, shipping and postal services, Datalogic is in a unique position to deliver solutions that can make life easier and more efficient for people. Datalogic S.p.A., listed on the STAR segment of the Italian Stock Exchange since 2001 as DAL.MI, is headquartered in Lippo di Calderara di Reno (Bologna). Datalogic Group as of today employs about 2,400 members of staff worldwide distributed in 30 countries. In 2013 Datalogic Group achieved revenues for 450,7 million Euro and invested over 35 million Euro in Research and Development with a portfolio of over 1,000 patents across the world. For more news and information on Datalogic, please visit http://www.datalogic.com.
Datalogic and the Datalogic logo are registered trademarks of Datalogic S.p.A. in many countries, including the U.S.A. and the E.U.