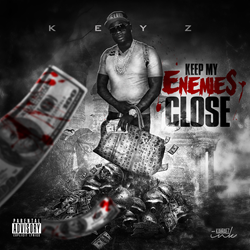 In the Filthy South album and mixtape I'm bridging the gap between the South and the West Coast, combining the W with the S, showing the world the influences between two different styles of music.
Shreveport, LA (PRWEB) May 15, 2014
Coast 2 Coast Mixtapes announce the release of the "Keep My Enemies Close" single by KEYZ2THAGAME. The single track project is currently available for download.
KEYZ2THAGAME, born Bradrick Deon Kimble, is an emcee from Shreveport Louisiana known by his fans as Keyz. Seeking to connect the gap between the South and the West Coast Keyz possess a unique style and delivery bringing a fresh perspective to the South. Creator of "THA NEW SOUTH - THA FILTHY SOUTH", Keyz has received recognition from major industry tastemakers such as Nick Cannon who describes Keyz sound as "voice of God, flow like Bananas" and Jeff Blue who warns "the South better watch out!" Already involved in major collaborations with artists such as Lil Flip, Tone Trump, Freeway, Rookie Snow, Roccett, Smeez, Aaron Davis, Young Sam, Weebie, Big Poppa, DJBayBay, and many more; Keyz has positioned himself as a true leader in the South spreading his movement across the country and consequently the world.
KEYZ2THAGAME most recently released single, "Keep My Enemies Close", is a testament to his South meets West Coast style with its hard hitting production and aggressive delivery. Keyz strong work ethic and socially conscious subject matter differentiate him from the often materialistic and glorified dope boys depicted in most of today's Southern Rap. This breath of fresh air seeks to empower a new generation by promoting focus and hard work emphasized by the pursuit of truth and righteousness. Give "Keep My Enemies Close" a full listen and keep up with this Hip Hop visionary on his Twitter page at @keyz2thagame.
About Coast 2 Coast Mixtapes
Coast 2 Coast Mixtapes are the most widely distributed mixtapes in the world, with over 100 million downloads/plays generated by over 200 volumes officially hosted by major artists. Coast 2 Coast has a solid reach in the new music industry with a digital magazine, DJ coalition, industry tips blog, yearly convention, and more. Coast 2 Coast Mixtapes represents a unique opportunity for artists of all urban genres, from major to indie. For more information, visit http://www.coast2coastmixtapes.com.