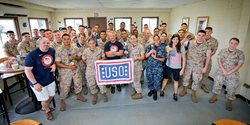 'USO has a campaign... called Every Moment Counts and that's so true… during my 6 plus years of active duty service as a member of the Utah Army National Guard, I witnessed the power of appreciation..,' said Holcomb. 'Now I get to say thanks...'
Arlington, VA (PRWEB) May 14, 2014
Twitter Pitch: @Kellyclarkfdn, @StevenHolcomb and @a_weibrecht celebrate troops on @the_USO tour to HI
Sochi Winter Olympic Medalists Kelly Clark, Steven Holcomb and Andrew Weibrecht traded in the snow for sand and celebrated May, also known as Military Appreciation Month, on a six-day USO/American300 tour to Hawaii May 6-11. This trip marked the first USO tour for the athletic trio.
Details:

During the trio's USO tour to the Aloha state, the medalists visited with hundreds of U.S. troops and military families stationed at Schofield Barracks, Wheeler Army Airfield, Marine Corps Base Hawaii Kaneohe Bay and Joint Base Pearl Harbor-Hickam.
In addition to participating in a string of USO meet and greets and dining alongside troops, the group paid moment-filled visits to an Explosive Ordinance Disposal Unit, a Wounded Warrior Unit and a Black Hawk Unit. The group also attended a fitness fair and presented team awards to troops who participated in a fire truck/bench press pull competition.
Clark, Holcomb and Weibrecht capped off their USO visit on May 9th with a private tour of the USS Arizona Memorial.
A trailblazer and dominant force in the sport of snowboarding, Clark is a three-time Olympic medalist who won gold in 2002 and bronze in both 2010 and 2014. With more than 60 wins under her belt, Clark is one of a handful of women to successfully land a frontside 1080. In 2014, Clark added her seventh Burton US Open win, her fifth Sprint U.S. Grand Prix tour title and her fourth World Snowboarding Tour title to her collection of wins. When off the snow, Clark is busy with the Kelly Clark Foundation, which helps youth become successful in snowboarding.
One of the world's top bobsled drivers, Holcomb began bobsledding in 1998 and went on to win five World Championship titles and broke 62-year medal droughts by claiming the four-man gold at the 2010 Winter Olympic Games in Vancouver and matching four-man and two-man bronze medals at the 2014 Winter Olympic Games in Sochi. In 2008, at the height of his career, Holcomb underwent a revolutionary new treatment to correct a degenerative eye disease and restore his vision from 20-500 to 20-20, making his story about more than victory, but conquering the odds. Holcomb also served for seven years with the Utah National Guard and was a member of the Army's World Class Athlete Program.
Nicknamed the 'Warhorse' for the way he attacks the mountain, Weibrecht is one of the most exhilarating alpine ski racers in the world. A two-time Olympic super G medalist, he also happens to be one of the youngest members of the U.S. Ski Team. A native of Lake Placid, New York, Weibrecht won bronze in 2010 and silver in 2014.
Quotes:
Attributed to Kelly Clark:
"It is an honor to have the opportunity to visit our troops with the USO. We got to meet with the Army, Navy and Marines, and visit Joint Base Pearl Harbor Hickam Air Force Base. We shared stories and thanked them for their service. It is great to be able to inspire people through athletics, but these service men and women are the real American heroes."
Attributed to Steven Holcomb:
"The USO has a campaign going right now called Every Moment Counts and that is so true… during my 6 plus years of active duty service as a member of the Utah Army National Guard, I witnessed the power of appreciation passed on to my fellow soldiers by American citizens countless times. Now I get to say thanks to service members as a veteran and an Olympic gold and bronze medalist, it's such an honor. Sharing Olympic medals and moments with the American Armed Forces is as good as it gets."
Attributed to Andrew Weibrecht:
"This USO tour was amazing… meeting troops and letting them know how much we appreciate their service is the best thing I've done since winning the silver medal in Sochi. I was able to spend moments with Army, Marines, Navy and Air Force – thanking them for all they do for us each and every day, and letting them know how much they mean to us as U.S. Olympic medalists."
Multi-media:
USO Photos: http://bit.ly/1ibOJlG
About the USO
The USO lifts the spirits of America's troops and their families millions of times each year at hundreds of places worldwide. We provide a touch of home through centers at airports and military bases in the U.S. and abroad, top quality entertainment and innovative programs and services. We also provide critical support to those who need us most, including forward-deployed troops, military families, wounded warriors, troops in transition and families of the fallen. The USO is a private, non-profit organization, not a government agency. Our programs and services are made possible by the American people, support of our corporate partners and the dedication of our volunteers and staff.
In addition to individual donors and corporate sponsors, the USO is supported by President's Circle Partners: American Airlines, AT&T, BNSF Railway, The Coca-Cola Company, Grand Canyon University, JCPenney, Jeep, Johnson & Johnson, Kroger, Northrop Grumman Corporation and TriWest Healthcare Alliance and Worldwide Strategic Partners: BAE Systems, BIC, The Boeing Company, ConAgra Foods, FedEx, Lockheed Martin, Microsoft Corporation, Procter & Gamble, TKS Telepost Kabel-Service Kaiserslautern GmbH & Co. KG and Wawa Inc. We are also supported through the United Way and Combined Federal Campaign (CFC-11381). To join us in this patriotic mission, and to learn more about the USO, please visit uso.org.
About American300
American300 is an all volunteer veteran run organization designed to support Department of Defense comprehensive service member programs. The focused mission is providing military commands around the world with subject matter resiliency and operations experts for the purpose of professional development. The organization also supports outstanding organizations like USO, Fisher House and the government's Armed Forces Entertainment Office and Department of State. Funding for American300 programming comes from private donations, government professional development funds and grants. For more visit http://www.American300.org.