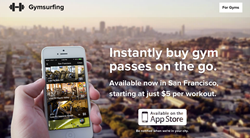 Gymsurfing lets travelers buy hassle-free day passes to gyms for as little as $5.
San Francisco, California (PRWEB) May 15, 2014
Travelers frustrated with the hassle of working out when they're on the road can now count Gymsurfing in their corner. The iPhone app, which launched on May 1st, allows people to book discount day passes to a diverse selection of gyms with just two taps on their phone for as little as $5.
"I travel constantly, and the most annoying part of traveling is finding a gym," said Gymsurfing co-founder Kevin Bracken, "if your home gym isn't near your hotel or Airbnb, you could pay as much as $35 for a single day pass. If your trip is longer than that, you were out of luck until now."
Bracken and co-founder Dustin Hoffman set out to create Gymsurfing when they realized there was simply no way to easily buy affordable gym passes, and most hotel gyms often have inadequate and outdated equipment. They have created an app that shows dozens of gyms around your current location and a full list of the gym's amenities, and lets you buy day, week or even month passes to a gym.
Billing their product as a "Hotel Tonight for gyms," the founders say gyms are already hailing this as a great new revenue source in an era where large chains are being undercut by discount brands. "This is great," said Jack Christianson, local San Francisco gym owner. "It has given me access to new customers, and a few have even become members after trying out the club."
Gymsurfing is available for free on the App Store on iTunes.
For more info, e-mail info(at)gymsurfing(dot)com or visit Gymsurfing.