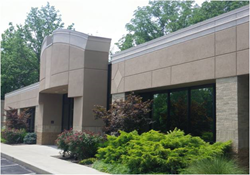 Cincinnati, OH (PRWEB) May 14, 2014
Dr. Scott Silverstein now offers patients of his Cincinnati periodontal practice an alternative to gum grafting that minimizes discomfort and reduces healing time. With the Chao Pinhole Surgical Technique™, Dr. Silverstein can reposition gum tissue with just one incision. This procedure can improve the smiles and oral health of patients with receding gums who are often at risk for issues such as infection or tooth loss.
Some people may believe the negative effects of gum recession are purely cosmetic, but the condition can contribute to other oral health problems. Gum recession can leave more of the tooth and even its roots vulnerable to bacteria in the mouth. Receding gums can also develop pockets or gaps between the gum and tooth, which can harbor infections. Infections such as periodontal disease can damage teeth and even result in tooth and bone loss. Seeking prompt treatment for gum recession is one important way Dr. Silverstein's patients can mitigate these risks.
PST™ is a relatively new innovation, and only a small number of dental professionals know how to perform it. During the procedure, Dr. Silverstein only has to make a small incision. After making the incision, Dr. Silverstein uses small specialized instruments to gently loosen gum tissue and then push the tissue lower until it covers more of the tooth. After this procedure, patients typically experience little discomfort, swelling, or bleeding. Dr. Silverstein's Cincinnati periodontal practice also offers conventional gum grafting, but Dr. Silverstein encourages eligible patients to consider this new alternative.
People who value their oral health should take receding gums seriously. An early treatment such as PST™ can significantly lower the risk of related oral health complications developing. Patients are welcome to call Dr. Silverstein's Cincinnati periodontal practice today to schedule an appointment.
About the Practice
The Ohio Valley Center for Periodontics & Implants is a periodontal practice offering patients personalized dental care in Cincinnati and Milford Ohio. Dr. Silverstein and Dr. Parker are part of one percent of dental professionals providing the LANAP FDA cleared laser procedure for gum disease and periodontal treatment. They are both active members of the American Board of Periodontology and the American Academy of Periodontology. To learn more about Ohio Valley Center for Periodontics & Implants and their dental services visit their website at http://www.cincinnati-periodontist.com and call their Cincinnati location at 513-334-5997 and their Milford location at 513-334-5997.