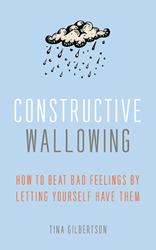 (PRWEB) May 15, 2014
Tina Gilbertson is an actress-turned-therapist who discovered the method of "constructive wallowing" by accident while driving home from a particularly frustrating acting class. After experience with therapy, she found her real passion lay in helping other people become more "feelings-friendly." Tina shares her method and ways it can help in her new book Constructive Wallowing: How to Beat Bad Feelings by Letting Yourself Have Them (Viva Editions 2014).
In a recent article from UK's The Daily Mail, Tina offered suggestions and ways to tell when wallowing is necessary. "Indeed, Gilbertson says her step-by-step guide to wallowing constructively, without shame, could help you avoid this kind of destructive behaviour altogether. It could even be the key to happier relationships, more energy, greater confidence and even good health, as it can reduce the kind of chronic stress that leads to high blood pressure, a lowered immune system and loss of libido."
The article includes a quiz to determine if readers need to wallow, how and when to do it, as well as Tina's tested and approved TRUTH method of wallowing.
Constructive Wallowing
How to Beat Bad Feelings by Letting Yourself Have Them
By Tina Gilbertson
It is tempting to turn away from menacing, uncomfortable feelings like anger, grief or regret and treat them like unwanted guests. However, ignoring them just seems to make them stick around. By learning to accept, rather than suppress, difficult feelings, readers will gain greater self-understanding for lifelong emotional health.
Psychotherapist Tina Gilbertson, LPC, is a former actress with credits that include TV's "The X-Files." She counsels individuals and adults and teaches personal growth classes in Portland, Oregon. Read her articles on Psychology Today, including her newest one "Fear or Failure?"
See Tina in person at these upcoming events:
6/2: Namaste Bookshop, New York - 6:30-8:30pm
6/5: Eat My Words, Minneapolis - 7pm
6/6: Barnes & Noble, Roseville, MN - 6pm
6/7: SubText, St. Paul - 6pm
6/11: St. John's Booksellers, Portland - 7:30pm
6/13: New Renaissance Books, Portland - 7-8:30pm
6/19: Village Books, Bellingham, WA - 7pm