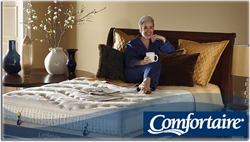 Chuck's has more mattress options than anyone else around.
Morgantown, West Virginia (PRWEB) May 14, 2014
Chuck's Furniture and Mattress in Morgantown West Virginia has always made an effort to stand out from the crowd. Recently, they've greatly expanded their Sleep Center to offer products not available any where else in the area. The most recent additions are Comfortaire and Pure Latex Bliss, which offers all latex beds including 100% organic mattresses.
James Prutilpac, salesmanager believes "there is a market in Morgantown for specialty bedding in addition to our regular offerings. We wanted to do a few things that no one else is doing. Every body offers innerspring and memory foam beds. The market is saturated with that. Three things that no one within about 100 miles offers are air beds, all latex mattresses and completely organic sleep systems. We thought those were three key areas that we could bring to Morgantown."
All three options will appeal to a different customer. Air beds have an adjustable scale that you can change firmness at any time. Not only is it adjustable but each side can be operated independently. This gives couples the ability to have different beds but still share the same mattress. Sleepers will also be able to adjust their mattress as their body changes or if they have special needs that require a different level of support down the road.
Pure Latex Bliss offers a line of all foam beds that have a more supportive feel than memory foam. Latex has more "push back" than other foams. This provides a different feel than many people are used to and offers another option for those that feel like they sink into a hole with Icomforts or Tempur models.
According to James, "One of the options we are most excited about are the new organic models. They are made with 100% organic latex and covered with an organic cotton cover. This has a few key features that can resonate with consumers. Firstly, with organic products you can be more confidant that you aren't dealing with harmful chemicals. They are also a good option for parents worried about exposing their children to various chemicals. We have also had customers with poly- allergies. Nearly every non-latex bed is made with oil based foams and plastics that can cause problems. Latex, especially organic, will not do this. The off gassing that oil based products produce will not be a problem with latex beds."
Stop into Chuck's to see the new lineup. They serve Morgantown, Clarksburg, Fairmont, Buckhannon, Weston, Blacksville and Kingwood in West Virginia; Pittsburgh, Waynesburgh, Washington and Uniontown in Pennsylvania; Deep Creek, McHenry and Oakland in Maryland.