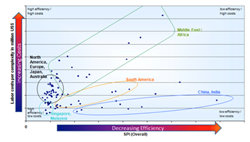 What was considered acceptable performance yesterday is no longer acceptable today. Companies must truly understand how margins for their various product lines differ across regions and they need to be optimized globally.
Houston, Texas (PRWEB) May 20, 2014
Even as energy and chemical manufacturers scramble to meet the increased demands for their products, they must not forget that one of the key drivers of profitability is workforce efficiency, stated Barjor M. Dastur, President and CEO of Phillip Townsend and Associates, a leader in global benchmarking solutions.
Speaking at a forum for senior process industry executives, Dastur outlines several reasons why companies that fail to make workforce efficiency a priority also underperform when it comes to profitability.
"The general assumptions our industry has been making have changed dramatically," asserted Dastur. "What was considered acceptable performance yesterday is no longer acceptable today. Companies must truly understand how margins for their various product lines differ across regions and they need to be optimized globally."
"Performance paradigms are established at the top of an organization, but care must be taken to ensure that the assumptions being made are supported by data," he explained. His insights include the following regional observations:
Europe

Feedstocks based on naphtha (tied directly to oil prices) are not as competitive as they were at one time.
Shale gas economics has helped the US reduce imports to virtually nothing putting additional pressure on European operators.
Older plants have no real economic incentive to upgrade.
Overall product demand is stagnant or declining putting additional pressure on capacity.
Europe is a convenient export destination for product from the Middle East.
Europe's high labor costs and extremely high social costs make it difficult to reduce staffing levels.
Strong unions and socialistic labor practices are putting extra pressure on performance.
Overall national debt problems are still stifling improvement.
Middle East
Low labor costs in the Middle East along with lower raw material costs have allowed companies to invest in projects and be very competitive without regard to staffing levels. Focus was on getting the plants started up and operating without much regard for staff levels. Wage inflation and government pressure to increase use of more expensive local labor is changing this.
Asia
Even in places like Asia & India where feedstock costs are not advantaged, low labor rates have allowed investments to occur, but wage rate inflation, low labor efficiency is becoming a threat to performance.
Impact on Global Operations
Capacity investment in other areas such as LNG in Australia, shale developments in NA as well as the increased use of local labor have made proper staffing levels much more important.
Dastur presented a chart showing how labor costs and personal efficiency vary by region. He addressed regional concerns: "our analysts have been meeting with the planners and operations managers of the world's leading petrochemical companies and of special concern is the situation in both the Middle East and Asia with rising costs and the lower levels of staffing efficiency."
One solution lies in analyzing local and global performance across process industries. According to Dastur, companies must ask the following questions to improve their competitive position:

What are the appropriate staffing levels for our regional plants?
What are the priorities in terms of controlling costs?
What are the benchmarks we need to understand to improve our operational performance?
How do recent trends in wage inflation impact our performance curve?
What are the variances in local staffing levels?
How does manpower efficiency result in local and global advantage?
How can we quantify the savings from improving workforce efficiency and benchmarking tools?
Companies are using Site Personnel Index (SPI), the industry-leading workforce efficiency tool offered by Phillip Townsend and Associates to answer some of these questions, said Dastur. SPI was developed in the mid-eighties by Shell, and has been used in refineries, chemical and polymer production sites around the world. The output provides participants a measure of how efficiently they are operating by understanding how their manpower is being utilized. SPI provides a set of indices that are compared to relevant peer companies to identify areas for improvement.
"The value of our Site Performance Index solution becomes obvious very quickly for our clients," added Dastur. Here's why:

SPI will allow the development of your company's Performance Quartiles and benchmarks to highlight areas for performance improvement versus peers. SPI is used over time is an indicator of improvement from year to year.
SPI allows for the efficiency assessment of an overall site as well as for different business clusters on a site.
SPI is used for different types of manufacturing sites independent of the capacity, size or products produced.
SPI provides an independent baseline for performance enhancement programs.
PTAI provides highly experienced professionals with access to an extensive dataset for analysis and comparisons to allow data driven decision-making.
About Phillip Townsend Associates (PTAI)
Phillip Townsend Associates is the leader in global benchmarking solutions, headquartered in Houston, Texas. Established in 1972 as a plastics industry information source, we expanded our business focus to encompass a full spectrum of benchmarking services. We have worked in over 35 countries in over 50 industries. All of our benchmarking programs are custom designed for specific clients with the constant objective of delivering validated, comparative information that can be easily used to make decisions and take actions to improve performance across the enterprise.
Over the years, PTAI has earned a reputation for trusted advice and counsel from our clients - through our uncompromised commitment to value and performance.
Learn more at http://www.ptai.com.