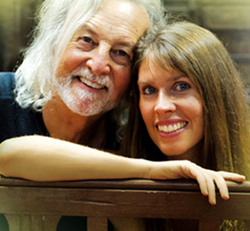 New York, NY (PRWEB) May 15, 2014
Mentors Channel announces Spirit of Mantra - 21 days mediation journey, vol II, with Deva Premal and Miten.
It's been two decades since Deva Premal and Miten launched their global mission to deliver the message of sacred mantras. Since coming together, they have presented their work to sold out audiences throughout the world and have released over a dozen top selling albums.
Hollywood icon Cher says of their debut album, The Essence, "It is my favourite CD for yoga. In fact I drive my teacher crazy, because it's the only one I ever want to hear!"
German born, classically trained musician, Deva Premal, was destined to a life steeped in mantras, when her father chanted the "Gayatri Mantra", generally accepted as the oldest prayer known to humanity, at her birth. Says Deva; "When my mother was pregnant with me, my parents chanted the Gayatri Mantra throughout the pregnancy. As I grew up, I continued to chant it regularly before sleep…It wasn't until much later that I came to appreciate these precious times and what my parents had given me."
Their latest album in an award-winning trilogy, is Mantras For Life.
Miten comments, "Every album has its own spirit … Mantras For Life is designed to support communal mantra practice, rather than individual".
To celebrate its release, Mentors Channel and the world renowned duo will present, THE SPIRIT OF MANTRA - 21-DAY MANTRA MEDITATION JOURNEY VOL II, a free, online program beginning Wednesday, May 14.
This is the second collaboration for Mentors Channel and Deva Premal and Miten. Their first wildly successful series attracted over 200,000 meditators from 200 countries. THE SPIRIT OF MANTRA is expected to break that amazing record, while offering much needed peace and healing to the worldwide community.
About Mentors Channel
Mentors Channel is a resource of growth, empowerment and inspiration. Its vision is to bring personal growth to the masses with technology and an infrastructure that allows people to improve their wellbeing anywhere, anytime and on any device. It is the place in which one can find the world's leading mentors ready to offer interactive guided coaching and meditation programs based on their teachings and on their world-wide bestselling books. Our mentors guide us towards great changes in life, changes we may have been dreaming of but were never sure how to obtain.