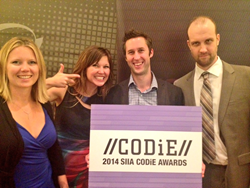 We connect the learning styles to the learning outcomes, designing our templates to replicate the best classroom experience
San Francisco, CA (PRWEB) May 14, 2014
Global eTraining, a world-leader in online technical training, today announced that their GeT Interactive eTraining system won an SIIA CODiE Award for Best Corporate Learning/ Workforce Development Solution.
The Software & Information Industry Association (SIIA), the principal trade association for the software and digital content industries, announced Global eTraining as one of 31 CODiE Award winners in the education technology category. A SIIA CODiE Award win for ed tech companies is an especially prestigious honor, as each award winner has been selected by a combination of educators, who act as initial judges by selecting finalists from among all nominees, and SIIA member-company peers, who vote to select the winners from among the finalists.
The GeT Interactive training reaches students with varied learning styles through text, audio, demos, exercises, and videos, engaging all the senses and anchoring learning with action. The result is better learning outcomes and productivity gains for its primary customer base of professional software users.
"Many online training providers might be video-focused or text-focused," says Jacqui Wenzel, Chief Operations Officer at Global eTraining. "We connect the learning styles to the learning outcomes, designing our templates to replicate the best classroom experience, like the one you remember your favorite teacher delivering."
"SIIA's 2014 Education CODiE Award winners' are some of the most innovative, high-impact education products out there," said SIIA Vice President for the Education Division Karen Billings. "We congratulate all of this year's CODiE Award winners, and thank them for the contributions they have made to the education industry."
This is Global eTraining's debut year in the CODiE Awards. Co-founder and CFO, Holly Brattberg accepted the award, "We are honored to be recognized among this group of remarkable companies and bright people."
For more information about the CODiE Awards, visit http://www.siia.net/codies/2014/

Global eTraining is a Canadian EduTech company with over 25 years of experience in developing and delivering exceptional computer-based learning. Our world-leading technical training platform is home to thousands of hours of technical content integrated with custom content developed directly by subject-matter experts through The Generator. We are a strategic training partner to some of the world's largest and most diverse multinational design, construction and software organizations, government bodies and Fortune 500 companies, and the global leader in designing and developing training for the 21st Century. Learn skills faster . Retain knowledge longer. Apply to real-world projects better. More about Global eTraining at globaletraining.ca.
SIIA is the leading association representing the software and digital content industries. SIIA represents approximately 700 member companies worldwide that develop software and digital information content. Information technology (IT) and software security are critical issues to SIIA's members, many of whom strive to develop safe, secure and state-of the-art products that effectively serve their commercial and government customers alike, while protecting their intellectual property. The SIIA Education Division serves and represents more than 200 member companies that provide software, digital content and other technologies that address educational needs. The Division shapes and supports the industry by providing leadership, advocacy, business development opportunities and critical market information. For more information, visit http://www.siia.net/education.
About the SIIA CODiE™ Awards -
The SIIA CODiE™ Awards, originally called the Excellence in Software Awards, were established in 1986 by the Software Publishers Association (SPA), now the Software & Information Industry Association (SIIA), so that pioneers of the then-nascent software industry could evaluate and honor each other's work. Since then, the CODiE Awards program has carried out the same purpose – to showcase the software and information industry's finest products and services and to honor excellence in corporate achievement.