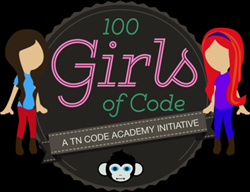 The young women we help today will grow up to cure diseases, write computer programs, and ultimately change the world
Nashville, TN (PRWEB) May 19, 2014
The Nashville Entrepreneur Center is proud to host a stop on the 100 Girls of Code Tour on June 16th, 2014. 100 Girls of Code is a program of the Tennessee Code Academy designed to bring awareness of gender disparity in computer science occupations in the United States today.
According to the U.S. Labor Department, 1.4 million jobs will be created in the U.S. in the next 10 years. At the current rate of college graduates, only one-third of those jobs will be filled by Americans, and a very small percentage of those jobs will be held by women. In 1991, 30% of computer science jobs were held by women, but that dropped to 18% by 2010. 100 Girls of Code seeks to change that, for some very good reasons.
First, the median job for people with a computer science degree pays between $80,000 and $100,000 per year, even without an advanced degree. Computer science and computer engineering have the highest average earnings, but only 12% of those degrees are held by women. Second, women account for only 6% of the chief executives in the top 100 tech companies, and lastly, only an estimated 8% of startups are funded by women.
"The EC is very excited to be a part of this event", said Jessica Hill, Graphic and Web Designer at the Nashville Entrepreneur Center. "The young women we help today will grow up to cure diseases, write computer programs, discover the next technological advances, and ultimately change the world."
Two female coders will conduct a fun and interactive learning experience that will include an introduction to computer programming, a tutorial of the latest website development techniques and look at the most innovative gaming development strategies. Only 25 slots are available so girls are encouraged to sign up today!
For more information about how to get involved, or sponsor the event, visit http://www.100girlsofcode.com. You may also contact Sammy Loudermilk at Sammy(at)tncodeacademy(do)com.