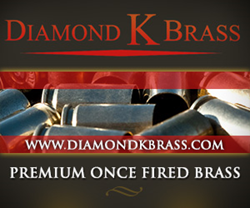 The owner Doug Kiley says, "We care about the needs of our customers and wanted to make sure we have the latest and best product selection in the reloading industry to meet our customers demands."
Scottsdale, AZ (PRWEB) May 15, 2014
Diamond K Brass the nation's fastest growing Once Fired Brass organization with locations in Scottsdale, Arizona and Larkspur, Colorado is now offering more products securely on their website due to the huge demand of their customers.
The owner Doug Kiley says, "We care about the needs of our customers and wanted to make sure we have the latest and best product selection in the reloading industry to meet our customers demands."
They are seeing an increase in demand for all types of once fired brass calibers, projectiles, and reloading accessories. Their projectiles and reloading accessories are available for purchase securely through their website.
By continuing to be innovative and listen to customers needs and providing a one stop shopping experience whether that be for a specific caliber of once fired brass, projectiles, and reloading accessories they hope to stay at the forefront of the industry and be the #1 resource for reloading supply customers in the U.S.
Also, on their home page of their website they share their complete inventory of 60+ calibers that is updated on a daily basis. You can connect with them and see their latest specials on the website and on their Facebook page.
Their new location is at 7363 E Adobe DR Suite 101 Scottsdale, Arizona 85255 and they can be reached at 855-357-3030. Please visit their website at https://www.diamondkbrass.com/ for any of your once fired brass needs where you can purchase directly online.