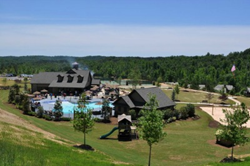 With over 16 million dollars invested, Currahee Club is now poised to attract discerning baby boomer buyers who are looking for a quality master-planned community in the Southeast region.
Libertyville, IL (PRWEB) May 15, 2014
Under Managing Director Andrew Ward and developer Arendale Holdings, over 16 million dollars has been invested in the North Georgia golf and lake community Currahee Club in the last two years, resulting in increased home sales and membership activity for the community. Currahee Club, recently chosen as a Southern Living Inspired Community for its "charm, taste, and Southern spirit," one of only seven such communities selected in America, is located 100 miles northeast of Atlanta. The community features a Jim Fazio designed 18-hole golf course, internal access to Georgia's Lake Hartwell, a recreational lake ideal for boating, sailing and fishing, a 48,000 SF Clubhouse offering picturesque views, and a five-acre Amenity Center and Sports Club.
"With Andrew Ward at the helm, a customer service oriented sales team, and the iron-clad developer Arendale Holdings in place, Currahee Club is poised to attract discerning baby boomer buyers who are looking for a quality master-planned community in the Southeast region," said Marian Schaffer, Principal and Founder of Southeast Discovery, a company that helps buyers actively looking for a retirement or second home in the Southeast find the right area and community to call home.
Ward, former CEO at Cuscowilla in Lake Oconee, GA, came onboard at Currahee Club two years ago and began working on a campaign to attract new property owners and residents after the economic recession. As part of the plan, Currahee Club lowered membership fees, reduced monthly dues, offered a generational membership program to its members, and reduced the investment for home sites to $85k - $450k. As a result, Currahee Club's golf membership has grown from 24 to over 200 in the last twenty months.
As a family-friendly community, Currahee Club also sought to create an environment specifically designed for family enjoyment. Families can now enjoy poolside dining next to a walk-in saltwater pool, tennis and basketball courts, bocce ball, and volley ball plus a Southern Living inspired Community Garden that Currahee's Chef harvest daily for Club recipes. In addition to Currahee's 1.5 mile Catawba walking trail, adventures await nearby with easily accessible outdoor activities including hiking, biking, waterfall tours, geocaching, horseback riding, fishing, hunting and zip lining.
Another compelling amenity is Currahee Club's 18-hole, 7,540-yard Jim Fazio golf course. A well thought out work of art, the course takes advantage of the natural contours of the land, offering rolling fairways, sloping greens, and dramatic elevation changes of up to 350 feet with exposed rock croppings. On a clear day, the back nine features 50 mile views looking across the Dahlonega Plateau into the Appalachian Mountains and NC, SC and GA. The Club also installed an internal short course last year, a USGA slope rated par 60 which is ideal for the higher handicapped golfer.
The centerpiece amenity of Currahee is the 48,000 SF clubhouse situated on one of the highest points in the development featuring beautiful views of three states over Lake Hartwell. "Currahee Club's clubhouse is one of the finest clubhouses I've seen in a master-planned community. The quality constructed, usable space with a 60-foot long Great Lodge Room, billiards room, board room, and restaurant and lounge, combined with an outdoor terrace providing incredible views of the lake and rolling hills, make this a one-of-a-kind amenity in a truly one-of-a-kind community," said Southeast Discovery's Marian Schaffer.
About Southeast Discovery
Since 2004, Southeast Discovery has been a trusted resource for candid information and insight on communities, developments, and general real estate in the Southeast. Through its highly-ranked web portal, newsletter and blog and its one-on-one work with clients, Southeast Discovery helps buyers actively looking for a retirement or second home in the Southeast navigate the process of identifying the right area and community for their needs. To learn more, visit http://www.southeastdiscovery.com/.
About Currahee Club
Located in the foothills of the Appalachan Mountains, atop the shores of Lake Hartwell, the exclusive , gated community of Currahee Club is bringing mountain lifestyles to a whole new level. Drawing upon its rich local heritage and picturesque landscape, Currahee – a Cherokee word meaning stands alone‖– truly is one of a kind. Residents and members at Currahee Club enjoy a perfect blend of golf, mountain, lake and club, and an extensive collection of amenities, including a 48,000 sq. ft. clubhouse, complemented by a comprehensive new Amenity Center Campus. Residential offerings at Currahee Club are varied and include beautiful mountain Manor homes and charming Cotswold-style cottages. Homes range in price from $399,000 to over $1 million. Currahee Club is part of the Arendale Holdings portfolio of properties. For more information, visit http://www.curraheeclub.com/.