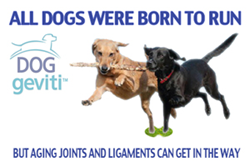 A growing number of veterinarians are expressing both amazement and great satisfaction with the performance of DOGgeviti® in a clinical environment.
Wilmington, DE (PRWEB) May 20, 2014
The science is tough to argue with. Amino Acids are indeed the building blocks of life. But did you know these amino acids combine to create a peptide, and a series of these peptides constitute an Oligopeptide. The scientists at Longeviti Sciences, LLC claim this is where the rubber meets the road.
It's the oligopeptides in DOGgeviti® that produce the all-important growth factors responsible for filling a major health void in aging canines.
Even though the oligopeptides in DOGgeviti® produce more than 20 different growth factors critical to canine health, it is the "Connective Tissue Growth Factor" or CTGF that has produced the most dramatic turnarounds in dog joint health making it the breakthrough dog joint supplement that it is.
In addition to CTGF, DOGgeviti® also boasts Nerve Growth Factor, Tumor Necrosis Factor-Alpha, Neurotrophin 3, Brain-Derived Neurotrophic Factor, Ciliary Neurotrophic Factor, Fibroblast Growth Factor, Epidermal Growth Factor, Transforming Growth Factor-Beta 1, and Insulin-like Growth Factors 1 & 2. Among the more than 20 growth factors in DOGgeviti®, these represent the most bioactive and have exhibited a dynamic effect on long-term canine health.
Scientists at the Longeviti Sciences Laboratories in the United States and Europe have made a major breakthrough in the field of dog joint health through a patented process to extract these crucial peptides from the embryos of fertilized chicken eggs as the basis to formulate DOGgeviti®.
DOGgeviti® has been studied extensively over the past 10 years in both the United States and the European Union, and the results have been extremely encouraging. The President and CEO of Longeviti Sciences, Emeric Delczeg, stated when asked about the outlook for DOGgeviti® in the marketplace, "When compared with other dog joint supplements, DOGgeviti® is without peer."
Both the US and EU studies resulted in data which reflect the peptides contained in DOGgeviti® do in fact produce the aforementioned growth factors in sufficient quantities to replace growth factors that diminish with age in canines; specifically the growth factors critical to optimum canine health, and joint and ligament health in particular.
As a consequence of the study's impressive results, a growing number of veterinarians are expressing both amazement and great satisfaction with the performance of DOGgeviti® in a clinical environment.
Dr. Gerald Buchoff, a Holistic Veterinarian practicing in Little Neck, New Jersey says in reference to DOGgeviti®, "This dog joint supplement is producing unexpected improvements in my patients suffering with joint and ligament conditions, along with other mobility issues. I'm even happier about the fact that DOGgeviti® is an all-natural dog joint supplement, which reduces the chance of any negative side effects for my patients. I also intend to try it as a dog arthritis treatment when the appropriate case presents itself."
The executives at Longeviti Sciences intend to put DOGgeviti® and better dog joint health within reach of dog lovers the world over.
Due to the overwhelming response to the nationwide television campaign for DOGgeviti®, Longeviti Sciences will be expanding their campaign effort to include Internet-based television. The company will continue to leverage the reach they have gotten from the YouTube airings of their TV spot along with corresponding banner ads directed to their website at trydoggeviti.com as a complement.
They will also continue with their offer of a free bottle of DOGgeviti® with the purchase of two bottles while supplies last. The company anticipates this offer will fully establish DOGgeviti® as the North American leader in dog joint supplements.