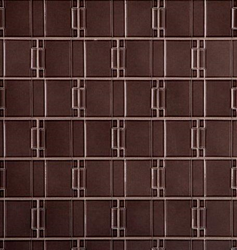 Los Angeles (PRWEB) May 15, 2014
The name Robert A.M. Stern is synonymous with definitive expressions of postmodernist architecture; the world-renowned architectural firm that bears his name has created everything from high-end homes and courthouses to university campuses and Disney resorts. Now, Walker Zanger, the world's most comprehensive stone and tile company, has forged an exclusive partnership with Robert A.M. Stern Architects, in which it will unveil a stunning collection of ceramic tiles bearing the firm's indelible stamp. The collection draws from diverse inspirations which cross the chasm of time from the ancient to the ultramodern.
The new Robert A.M. Stern Collection for Walker Zanger combines traditional smaller tiles with truly monumental tiles. The collection achieves stunning effects that are rich with detail, while evoking a diverse palette of historical influences ranging from shingle-clad country homes to elegant urban residences. With names such as Luxor, Aegean and Wave, the new styles re-imagine fundamental architectural elements as floor-to-ceiling pilasters, delicate fish-scale shingles and intricate trellises—all in ceramic tile in a broad palette of hues and surfaces.
"This is an exciting milestone in the company's history," notes Walker Zanger Vice President of Design and Marketing Jared Becker. "For decades, our products have graced everything from magnificent residences to famed museums across the globe. By combining our artistic and technical skills with the design vision of Robert A.M. Stern Architects, consumers and designers will benefit from this exclusive partnership."
The new Robert A.M. Stern Collection for Walker Zanger officially launches at the 26th annual International Contemporary Furniture Fair (ICFF) in New York, May 17th – 20th at Walker Zanger's booth #1466.
ABOUT WALKER ZANGER:
For more than 60 sixty years, Walker Zanger, the world's most comprehensive stone and tile company, combines traditional tile-making techniques with a modern sophistication that transcends any singular design style. A leading choice for design professionals and consumers, Walker Zanger natural stone and tile products can be found in luxury homes, trendy boutiques, lavish spas and resorts, famed museums and fine restaurants around the globe.
Walker Zanger is available through 15 beautiful showrooms and more than 200 authorized dealers nationwide. To learn more about Walker Zanger and its line of products, visit http://www.walkerzanger.com.