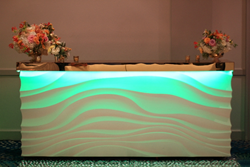 Unlike the bars in the current rental market, Kristina Valdmaa Designs' bars are more than just a place to grab a drink.
Eatontown, NJ (PRWEB) May 20, 2014
Kristina Valdmaa Designs (KVD) is pleased to announce the release of a new line of bars for event rentals. These bars are skillfully handcrafted and elegantly mastered, providing elegance and charm to any event. Their new line of custom event bars are more than a place for guests to grab a drink, they evoke a lounge feeling where guests can hang out, enjoy themselves and watch the event unfold.
The premiere bar in KVD's new line of rental bars was a collaborative effort with a client. This bride wanted two luxurious and classy 24' x 16' u- shape bars that were not currently offered in the local rental market. KVD was happy to assist and designed something customized for her and her event needs. After exploring many design options and architectural materials, Kristina found a 3D decorative wave paneling used in chic restaurants, luxury hotels, and interior designs as the façade of her main bar. The KVD production team built 16 individual sections totaling 128 linear feet equipped with color changing LED lights to provide a trendy, chic feel. The bars were then topped with gold mirrored acrylic to complement the Gatsby style décor the client was trying to achieve.
Since its creation by far, this wave bar has been the most popular and versatile. The lighting on the wave panels combined with the mirrored top can match any event décor and add glamour, elegance, and charm. 8' in length and equipped with bartender storage and accessories, this bar is a necessity for every event.
KVD's next popular bar design has been the shiny elegant black and white classic bar. This bar is suitable for a couture event, a stunning cocktail hour, a black-tie affair or a luxurious dinner party. Other bars in their line include a tiki bar (suitable for a Hawaiian or a beach theme), a light up acrylic white modular bar and many others. Because Kristina is fascinated with new materials, she is currently in the research and development stage to add others to her rental bar line. For rental quotes or availability, please contact 955-321-0733.
###
About Kristina Valdmaa Designs: Serving the tri-state area, Kristina Valdmaa Designs is a progressive full service event planning, design and production studio located out of Eatontown, NJ. Founded upon the traditions of quality craftsmanship and uninhibited creativity, their new 9,000 sq. ft. studio allows clients the opportunity to get a live look at a variety of unique table settings, design trends, drapery, ambiance lighting, custom linens and event furniture. The company works with countless individuals to help them conceptualize and design important celebrations and parties including, lavish weddings, bat/bar mitzvahs, corporate parties and charity balls. Founder, Kristina Valdmaa with origins from the Baltic States, has been developing her roots as a floral designer from an early age and is known for her design ingenuity using a harmonic balance between functionality and appeal. The company's mantra is to allow creativity to blossom, anything that can be dreamt can be created with their help. For more information, please visit their website at http://kristinavaldmaa.com/.