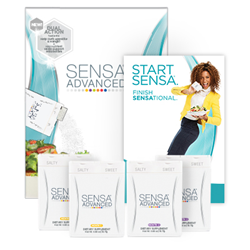 Manhattan Beach, CA (PRWEB) May 15, 2014
SENSA® Products, LLC, a leading weight-loss and lifestyle brand, is launching a new Member Price Program for its customers. The SENSA® Member Price Program provides active SENSA® customers with exclusive discount offers on all SENSA® products.
"SENSA® is excited to offer the Member Price Program discounts to our loyal customers," said Jenn Heller, Vice President of Brand Marketing, SENSA® Products, LLC. "We advocate a healthy lifestyle and want to ensure our customers are able to take full advantage of the products we offer to help them reach their goals and live healthier, happier lives."
SENSA® Member Price Program members can receive up to 35% off SENSA® ADVANCED and 40% off all other SENSA® products, including supplements, drinks, snacks, and accessories.
To take advantage of the SENSA® Member Price Program discounts, you must log-in to your account at http://www.sensa.com or call customer service at 866-514-2554.
About SENSA®
SENSA® is a leading weight-loss tool and lifestyle brand that helps people learn proper portion control. SENSA® is designed to work with your sense of smell and taste to help users feel full and lose weight without traditional dieting, stimulants or pills. For more information on SENSA®, visit http://www.sensa.com or https://www.facebook.com.