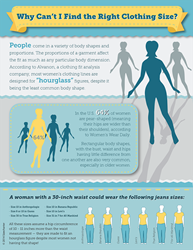 We saw rampant confusion about how clothing sizes fit and wanted to provide a central resource for people trying to find their best clothing fit.
(PRWEB) May 15, 2014
SizeCharter.com, a user-friendly size guide for the most popular clothing brands for women and men, has been launched by LoveToKnow Corp. This unique, free, online resource is devoted to helping people navigate confusing clothing sizes to easily identify brands and styles that meet their needs without having to spend hours in a dressing room or shipping back ill-fitting garments.
To use SizeCharter.com, simply enter your measurements to find what size you wear in every brand and which clothing lines are the best fit for your individual proportions. Alternately, enter the size you wear in your favorite-fitting brand and find other clothing lines that fit in a similar fashion!
Product manager, Ann MacDonald, explains why the company developed SizeCharter.com, stating "We saw rampant confusion about how clothing sizes fit and wanted to provide a central resource for people trying to find their best clothing fit. LoveToKnow is committed to providing trusted, useful advice, so the fact that SizeCharter.com makes information about clothing size and fit more accessible and easier to understand is a natural fit for our brand."
MacDonald continues, "Anyone who finds it challenging to know what clothing brands and sizes work best can benefit from SizeCharter.com. There is no cost to use the site – users don't even have to register. The information provided can help people save time by quickly discovering the brands that work best with their measurements, as well as feel more confident when ordering clothing online."
In pre-launch testing, one survey respondent said, "I don't explore many clothing shops beyond what I know already works for me, so this gave me good ideas as to what to look for in the future that might fit well." Another stated, "Love this idea! There aren't any other sites like this, as far as I know. It would be very helpful for online shopping."
In addition to the extensive brand-specific clothing size database, SizeCharter.com also educates consumers on finding great clothing for their body shapes and on where to locate hard-to-find sizes. Information is presented in fun, sharable formats, such as the featured Why Can't I Find the Right Clothing Size? infographic. MacDonald states, "The site offers tips for finding fits and styles to flatter every figure, how to measure to get the best fit, how to assess your body shape and how to dress to make the most of your shape."
SizeCharter.com site is user-friendly and easy-to-use from all mobile devices (with no app download required) and desktop computers.
About SizeCharter
SizeCharter.com is part of LoveToKnow Corp., an online media company dedicated to providing trustworthy advice and information for women. SizeCharter provides sizing help for women and men of all shapes and sizes, with special guides and assistance for those seeking plus size clothing, tall and extended sizes and petite and short fashions. Find out more at http://www.sizecharter.com, or by following SizeCharter on Facebook, Google + or Pinterest.
Available:

Company representatives available for interview
Infographics available as image files