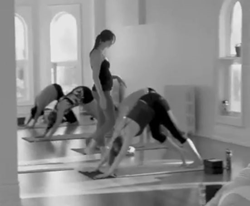 Soul Yoga Wellness now offers an expanded complement of specialized teacher training programs.
Toronto, Ontario (PRWEB) May 27, 2014
If ambiance and beauty fuels your inner spirit as much as the people and practice of yoga itself, then you will enjoy the new world-class yoga teacher training at Soul Yoga Wellness. Featuring a large open studio in a heritage building in Old Stouffville, the facility offers picture-perfect natural light and natural hardwood warmth that has pleased students and teaching masters.
Owner, Studio Director and Teacher Lisa Mione built her studio with the philosophy that design details matter, like the amount of light in the studio and the soothing warm colour palette, designed to open her clients up and gently soothe or energize their moods. The studio's large traditional pane windows light mirrored walls that let people see how their poses measure up against the studio masters'.
Mione also believes in introducing top notch teacher training as a regular service to her members. Soul Yoga Wellness now offers an expanded complement of specialized teacher training programs that are geared to the needs of individual teacher certification trainees. With many of the GTA's best instructors now on the program roster, Soul Yoga Wellness' Teacher Certification program is poised to be one of the best in Canada. Even with the new teacher training sessions now available, the studio expects full enrollment.
Mione and her team of masters also offer 150 regular classes each month for different levels and different types of yoga. From beginners to advanced practitioners, yoga enthusiasts can buy 30 days of unlimited yoga classes for $40 and drop in for any class at any time. Heated and unheated, Hatha, Restorative Hatha, Vinyasa, Vinyasa Flow, and Yin Yoga sessions are all regularly available.
"The moment you walk into our large, light-filled studio you feel the magic," says Mione. "It's the perfect place to train teachers as much as beginners with our 'make it simple, fun and deeply healthy."
Throughout the 30 day trial highly qualified instructors and masters attend to members' your individual needs, offering different routines, schedules and styles best suited to them. Members can also enjoy a massage after and consult with an in-house nutritionist. To complete Soul Yoga Wellness' personal care offering the studio now offers personal beauty, skincare and aesthetic services.
Built on the foundation of clean, green, conscious design that is inspired by nature and creates a calm and healthy environment for your yoga practice, Soul Yoga Wellness features VOC-free finishes, filtred faucets all-natural cleaning products and an energy-efficient radiant heating system.
For more information please contact:
Lisa Mione
Founder, Studio Director and Teacher
416-919-5232
info(at)soulyogawellness(dot)com
Soul Yoga Wellness is a privately owned studio located in historic Stouffville, Ontario. Housed in a spacious heritage building on Main Street, Soul Yoga Wellness is known for making yoga in its many forms accessible to everyone in a fun, fulfilling and transformative way. Our staff strive to spread the word through action with our shared commitment to excellence in teacher training programs for everyone.