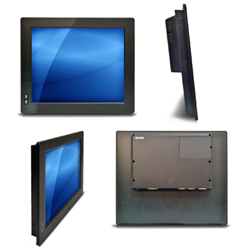 Chino, CA (PRWEB) May 15, 2014
Acnodes Corporation announces the release of a new fanless touch panel PC, the FPC7719. It features an Intel Atom D2550 Dual-Core 1.86GHz processor and utilizes an Intel NM10 chipset. This new robust Panel PC will include a built in 2GB DDR3 memory module which can easily be upgraded to 4GB if needed and comes with a 19 inch 5-wire resistive type touch screen LED. The FPC7719 offers a resolution of 1280 x 1024 pixels, an LED backlight that enables reliable operation and a resistive touch screen that allows the user full functionality while wearing gloves or any other item.
The FPC7719 impresses with its industrial-purposeful design which is housed in an all aluminum casing. Its front panel has been test and rated to comply with water and dust resistant standards (IP65). Thanks to its passive cooling concept, the FPC7719 provides not only high performance and reliability but also noiseless and power saving benefits. This new panel PC includes a range of interfaces suitable for industrial deployment: 2 x Gigabit Ethernet, 4 x USB 2.0, 4 x serial ports, 1 x 2.5" SATA HDD, 1 x mini PCIe slot and an CF slot for storage capacity.
The FPC7719 is rugged and capable of operating in harsh environments with temperature ranging from 32°F to 113°F (0°C to 45°C) and relative humidity of 20% to 90%. To fulfill different application needs and to secure the system from power input changes, this system accepts a 9~36V DC power input. This new panel PC also supports both VESA and panel-mount standards for more flexible installations.
Please visit FPC7719 product page for more information.
Our product line configurations are illustrated on our web site at Acnodes.com. However, most of the commercial and industrial computers are custom built to customer's exact requirements. Contact us via e-mail: info(at)acnodes(dot)com or telephone (1-909-597-7588) for more information.
About Acnodes
Acnodes manufactures, designs, and markets industrial computers and display solutions for diverse industries ranging from automation to military. We have an array of technological innovations in the area of rack mount servers, embedded computers, Panel PC's and rugged monitors that create simpler and more valuable products to the customers. We work closely with our clients to customize computer products to meet their required projects and challenges. Acnodes strives to explore new technologies to better improve life and work.
Company Information:
Name: Acnodes Corporation
Address: 14628 Central Ave.
City: Chino
State: CA
Zip: 91710
Country: US
Phone: 909.597.7588
Fax: 909.597.1939
http://www.acnodes.com