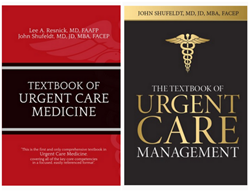 (PRWEB) May 21, 2014
Urgent Care Education announced today that special bulk pricing rates on urgent care textbooks are available now for clinic managers, owners, and physicians worldwide through the Urgent Care Education website. Qualifying products in this offer include the Textbook of Urgent Care Medicine, and the Textbook of Urgent Care Management in both hard copy and eBook formats, and the already discounted eBook/hardcopy bundle for quantities of 2 or more. To take advantage of the offer visit the Urgent Care Education website and your discount will automatically be added according to quantities when you select more than two books. Discounts increase with the number of books ordered.
Urgent Care Education founders Dr. Lee Resnick, and Dr. John Shufeldt, decided to offer the bundle to help make the books more readily available to large urgent care and family practice groups as well as educational programs.
Co-founder Dr. Lee Resnick said making the books easier for clinic owners and educational institutes to carry nationwide and worldwide "is a critical step towards establishing best practice standards in our discipline."
"In the current stage of medical education, there are no residency programs and very few fellowships specific to urgent care, if a doctor wants to go into our field, they would start in either family practice or emergency medicine. The urgent care setting has unique medical presentations and with that comes a need for a current, comprehensive manual that physicians can trust. We chose the leading physicians in urgent care to author chapters in their area of expertise. Medical schools, and large groups are very excited for what this means for the future of our industry and the development of best practice standards," said co-founder Dr. John Shufeldt.
About the Textbook of Urgent Care Medicine and the Textbook of Urgent Care Management
The books provide a thorough and quick reference guide in both the application of clinical practice and management of an urgent care center. Designed to be a quick reference guide, the Textbook of Urgent Care Medicine is organized by symptom in both digital and hard copy formats. The Textbook of Urgent Care Management is also available in both formats and is perfect for the clinic manager or owner on-the-go who seeks to grow their practice, and manage more efficiently. Chapters are authored experts in their chapter subject. EBooks offer easy navigation and may be purchased at a deep discount with the matching hard copy.
For customized pricing on bulk orders, contact Amanda at apacion(at)urgentcaretextbooks(dot)com or visit urgentcareeducation.com
About Urgent Care Education:
Physician leaders, Lee A. Resnick, M.D., FAAFP and John Shufeldt, M.D, JD, FACEP have collaborated to create Urgent Care Education, to fill an ever growing need in urgent care educational materials with the highest relevancy, utility, and credibility. In the textbooks, each chapter is authored by a leading urgent care physician or operator in their areas of expertise.