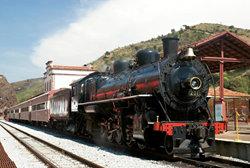 The strategic improvements of passenger trains in these areas will facilitate locals and tourists.
(PRWEB) May 15, 2014
The Brazilian train operator Vale has recently renovated two train lines in Brazil: the route from São Luís to Pará and Maranhão on the Carajás Railroad (EFC), as well as the route from Vitória to Minas (EFVM). The strategic improvements of passenger trains in these areas will facilitate locals and tourists, but part of the improvements focus on freight transportation as well.
The new Vale train routes include railcars with air-conditioning in economy and business class, plus televisions and other amenities such as individual sound systems and electric plugins next to each seat. These passenger cars carry a total of over 1 million passengers each year.
The Vitória-Minas Railway (EFVM) route covers 664 km takes approximately 13 hours one-way. The cost in economy is $24.69 USD and for business class, $39.74 USD. There are 10 new executive cars and 30 new economy cars.
The São Luís – Pará long-distance route covers 534 miles (859 km). The cost in economy is $23.41 USD and for executive class, $46.83 USD.
The new Vale improvements in Minas Gerais include improved infrastructure for transporting iron ore. The Minas Gerais region has always been important for Brazil exports of natural resources, including gold during the imperial era, in the late 17th – 18th centuries.
Until this recent Vale improvement in March 2014, many passenger train journeys in Brazil had fallen out of commission. Tourist-friendly rail routes in Brazil are more piecemeal than in Argentina, where there is the popular Tucuman to Buenos Aires train and the famous tourist Train to the Clouds. Other popular railway journeys in South America include the popular PeruRail journey from Cusco to Machu Picchu, and the ride from Cusco to Puno.
SouthAmerica.travel has always been a leader in offering railway tours in Brazil. There is a comprehensive railway tour of Brazil, which pieces together some of the patchwork of passenger train journeys available in Brazil.
Tourists can ride the Maria Fumaça, the steam train from Tiradentes to São João del Rei. Travelers start by exploring the town of Tiradentes, trying some sipping chocolate, and then boarding the train as its whistle blows and the wheels begin to churn. Passengers can peak out the windows and see the green hills during the 30-minute ride.
SouthAmerica.travel also highly recommends the train ride from Curitiba to the Port of Antonina, which is a full-day trip in the southern Atlantic Rainforest.