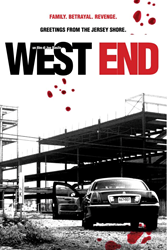 "WEST END is my homage to the gritty crime dramas of the 70's that made me want to make movies. Films that evoke emotion and make an audience feel the inner struggle of its characters." Writer-Director, Joe Basile
Hollywood, CA (PRWEB) May 15, 2014
Multiple-Award-Winning Independent film WEST END will appear at four prominent film festivals in the upcoming month according to writer-director, Joe Basile.
The feature film tells the story of Vic Trevi, (Neal Bledsoe). Ashamed of his family's mafia ties, Vic leaves New Jersey and never looks back. When his father (Eric Roberts) is murdered, Vic returns home with an agenda.
Vic is an undercover FBI agent positioned to go against the people he calls family; he is torn between his sense of duty and a moral obligation to his family.
Upcoming screenings will include:

June 2nd at 2:45 pm, WEST END will premiere at Dances with Films, indie film's darling festival, in the heart of Hollywood, Hollywood and Highland, at the TCL Chinese 6.
June 3rd at 8:00 pm, Hoboken International Film Festival at the Paramount Theatre Middletown, N.Y.
June 6th at 7:00 pm, New Jersey International Film Festival held on campus at Rutgers University, New Brunswick, N.J.
June 30th at 7:15 pm, Manhattan Film Festival held at The Quad Theatre in the heart of New York City's Village.
Basile says, "WEST END is my homage to the gritty crime dramas of the 70's that made me want to make movies. Films that evoke emotion and make an audience feel the inner struggle of its characters."
WEST END screened at the Garden State Film Festival and won two awards: "Best Home Grown Feature" and "Audience Pick of Flicks." The film also screened at the Soho International Film Festival and won the "Soho's Pick".
WEST END Stars: Neal Bledsoe (Ironside, Smash, Gossip Girl), Peter Onorati (Murder in the First, Goodfellas), Eric Roberts (The Dark Knight, Runaway Train, Pope of Greenwich Village), Melissa Archer (One Life To Live), Joe Nieves (How I Met Your Mother, 24), Isabella Hoffman (Homicide, Providence), Paul Calderon (Pulp Fiction, King Of New York, The Bad Lieutenant), and Wayne Duvall (Lincoln, Prisoners, The District).
For more information about WEST END, please visit: http://www.WESTENDthemovie.com.