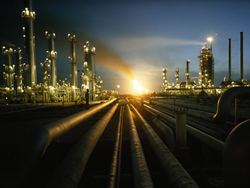 Manila Philippines (PRWEB) May 15, 2014
According to the development timeline for Black Diamond Oil, the selection of lead investor's has realized that when you refine oil you have invested in a permanent bull market with huge upside potential.
Black Diamond Development and Exploration Co ltd. Seychelles; management team is responsible for the implementation of the company's development strategy in the Middle East, with a focus on the investment needs of their shareholders and partners.
Recognizably in the Middle East, oil ventures and refinery joint ventures are extremely liquid hence the reason shareholders are pouring millions into Black Diamonds international oil and refinery projects. Moreover further private refining projects are also under consideration. Together, these projects will offer very substantial investment opportunities in related services for BDDEC.
BDDEC has continued to support the Rezhwan Corporation and their new venture in Kurdistan. Black Diamond Partners landed in Erbil on Tuesday May 13, 2014 with a special envoy from Iran, America, and the Philippines to Finalize percentage split's on profits and to sign new joint ventures for new endeavors.
It was agreed that Black Diamond Seychelles and its partners would receive 75% for the cash injections into Middle East joint ventures while Rezhwan would receive 25% for the deployment and expansion into these different projects.
John Lamb President of Black Diamond said, "we are looking forward to the end of June, as we will have huge payout's for our shareholders. We are very pleased to have received steady capital to fund our new projects in the Middle East which has made our shareholders very happy".
Black Diamond is taking a conservative approach that will help fund the company's commitment to spending $100 million in 2014 in capital projects. Management's goal is to add these new projects and deliver a dividend payout ratio at a reasonable 45% through prudent management and earnings growth.
The refinery project is expected to make use of Middle East oil and gas resources that will contribute to create long lasting value to Black Diamond investor partners and shareholders. The management team and its joint venture partner's has significant experience in energy development and the day-to-day operational requirements of a driller/operator, refineries as well as a long and successful relationship with the financial community.
Ronald Flynn said, "we are putting more money to work in the Middle East and abroad in 2014, as part of our development plan to double our profits by locking up joint ventures that pay great dividends with very low risk."
With BDDEC strategic location, long-term supply security and rapidly improving infrastructure, Black Diamond Development and Exploration Limited refining represents a huge investment opportunity.
The forecast is very favorable for crude oil refining. The global demand for refined petroleum products is expected to remain very strong, driven by rapid and resilient growth in emerging markets. Meanwhile, tight capacity worldwide has elevated utilization rates and pushed margins to historic highs. In fact, refinery utilization rates are forecast to exceed 86% this year with demand at 93 million bpd and set to double by 2030.
Black Diamond Development and Exploration Co ltd. Seychelles. strategy is to cash flow internationally oil and refinery projects thus delivering giant revenue for their partners, Black Diamond Development and Exploration Co ltd. Seychelles, who fund these companies, will follow a more conservative approach as there investors require a more dependable income stream and potential for growth.
This press release contains forward-looking information within the meaning of Section 27A of the Securities Act of the 1933 and Section 21E of the Securities Exchange Act of 1934, and is subject to the safe harbor created by those sections.