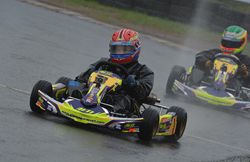 (PRWEB UK) 16 May 2014
Tom qualified 3rd in his group and 4th in the heats on Saturday 4th May. During the second heat stage Tom started 4th on the grid and maintained this position going into the first corner and throughout much of the dry race. Then, by carefully observing the two leading karts and avoiding a collision between them, Tom went on to win the race.
On the Sunday – with two races on a very wet day – Tom started Final 1 in 9th position on the grid and, following an amazing start, made it into 3rd position after just a few corners. For the remainder of the race Tom battled with other competitors for 3rd and 4th places and, in the closing stages, won the race following an outstanding manoeuvre with the leaders on the last lap.
Starting Final 2 in pole position Tom had a great start and, with his two team-mates close behind him, pulled away from the rest of the field. A 15-minute battle for the lead then followed and, following a near spin, Tom lost the lead and settled for 3rd place.
Tom, who hails from Castle Donington, races for the Aim Motorsport Cadet team. His recent Karting successes include winning the 2012 Trent Valley Kart Club Championship, which put his name on the same trophy as his hero, World Formula One Champion Lewis Hamilton, and the highest placed Young Driver in the 2013 National Cadet Kart Championship.