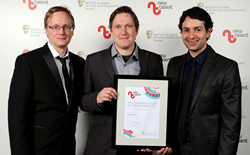 Glasgow, United Kingdom (PRWEB UK) 16 May 2014
It was 'Game On' for SAE Institute's Omar Khan, at this year's British Academy of Film and Television Arts (BAFTA) Scotland New Talent Awards when the winners were announced at a glittering ceremony in Glasgow's The Arches.
Omar, Audio Programme and Campus Academic Coordinator at SAE Institute Glasgow along with his life long friends, brothers Jon and Graeme McKellan were winners of the Best Game award with Lub Vs Dub, their first self-published game released by Futuro, a small independent games production company they have launched in their spare time.
Since it's creation at the 2013 Global Game Jam in Glasgow, Lub Vs Dub has been no stranger to success. The title created in 48 hours has already won Best Tech and Best Game at 2013's Global Game Jam, as well as Best Game at last year's Scottish Game Jam.
In January it was chosen as Pick Of The Week App appearing in every Starbucks across the United States and Canada and Apple Store featured the game worldwide resulting in over 300,000 downloads in seven days.