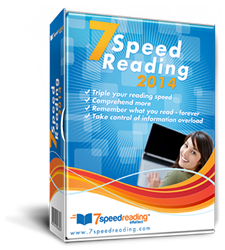 ...to advance knowledge and drive forward learning, helping individuals become successful in their professional lives.
New York City, NY (PRWEB) May 16, 2014
The company behind 7 Speed Reading™ software, eReflect, recently announced their partnership with ieltsforfree.com in a joint effort to help IELTS exam takers practice with the right material in order to pass their examinations. Both companies share a common mission: to advance knowledge and drive forward learning, helping individuals become successful in their professional lives.
IELTS is an English language proficiency test that's taken by thousands of non-native English speakers and it's often an admission criterion for universities in the UK, the US, Australia, New Zealand, Canada, and Ireland, among other countries.
Because this exam can be key to professional and educational advancement for many people around the world, 7 Speed Reading™ and ieltsforfree.com are committed to providing them with focused, intensive practice material, as well as useful tips about the exam and ways to excel at it. The online IELTS resources site offers a vast array of material on listening, speaking, writing and reading, covering all important IELTS milestones on grammar, vocabulary and comprehension.
7 Speed Reading™ developer, eReflect, expressed the company's excitement about this partnership and expects that the number of students benefiting from the material provided will exponentially grow in the following months.
To honor the partnership between the two companies, the website ieltsforfree.com is featuring a speed reading download page on the site to ensure site visitors are aware of the newly established collaboration with eReflect.
As an eReflect spokesperson revealed today, because both companies are champions of life-long learning and education, it was only a matter of time before this partnership came to be. Starting today, ieltsforfree.com and 7 Speed Reading™ will be on a joint mission to offer high quality, relevant IELTS practice material to international students taking the popular test. As the team at ieltsforfree.com reminds readers, the resources on the site are provided at no cost, so that people can easily share and practice with them.
eReflect wishes the best of luck to all IELTS students in both their studies and their exam dates, and hopes the resources provided by ieltsforfree.com will boost their chances for success.
************
For more information about the benefits of using 7 Speed Reading, please visit the official website at http://www.7speedreading.com.
About 7 Speed Reading™
7 Speed Reading is the only modern speed reading software that uses the latest technology to produce superior results.
The software provides its users with a new way to master speed reading that guarantees three times the reading speed along with improved memory and comprehension.
The software is poised as the most comprehensive speed reading system anywhere. It contains seven learning strategies, fifteen software activities, video training, advanced tracking capabilities and many more exciting features.