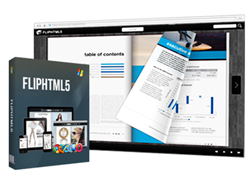 (PRWEB) May 16, 2014
Fliphtml5.com has launched an amazing eBook Publishing Platform, which transforms the PDF, Office files, and images into beautiful flipping ebooks. The software is available in multiple packages including a free edition. The free edition can be used seamlessly for online conversions on both Windows and Mac.
Obviously, the Premium Packages of FlipHTML5 offer more powerful flip book making features. Users are able to convert a PDF to HTML5 flipping eBook without coding, and add videos, swf files, text, photos, slideshow, and many more multimedia. A media-rich HTML5 flipbook would be much easier to catch the attention of customers. Moreover, created flipbook works seamlessly on PC, MAC, Tablet, and even Android mobile phone.
FlipHTML5 is a perfect eBook publishing solution to showcase product catalogs and photos by creating them into a lovely flipbook. It adds value to the content and gives the page turn effect which is mind blowing. The flipbook can be also customized to be unique by adding textures, editing images and using special effects. Presenting catalogs to customer through the flipbook format has become a good choice of business.
Besides, users of FlipHTML5 solution have no need to worry about the storage probelm. FlipHTML5 not only create stunning image albums and presentations, but also offer free online cloud service. Once a flipbook is made, it can be uploaded onto FlipHTML5 server instantly and accessed anywhere through any device, giving complete ease of portability and accessibility.
All in all, FlipHTML5 eBook Publishing Platform is capable of impressing customers in the first sight. Expanding brand's influence with rich digital content that captivates customers, employees, and stakeholders, is the future of modern business.
For more information, visit http://fliphtml5.com or contact the FlipHTML5 team.