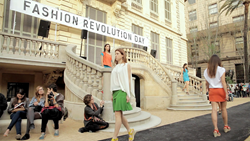 We need to remember that if we buy something cheap, it is not really cheap. It is really expensive, because someone is paying for it
Barcelona (PRWEB UK) 15 May 2014
The innovative clothing printing company, Garment Printing, recently participated in the successful Fashion Revolution Day in Barcelona, to help spread the message of ethical fashion.
Commemorating the victims of the Rana Plaza factory collapse in Bangladesh last year, Fashion Revolution Day was established to get people talking about the impact of their clothing on the environment.
"We want people to ask certain questions every time they go shopping. Questions like; where do my clothes come from? Were the people who made them well paid? Are the circumstances in which they work safe? Is the production environmentally friendly?" commented Virginia Rondeel, president of the Associacio Moda Sostenible Barcelona and organiser of Fashion Revolution Day Barcelona.
She is positive that people are becoming more and more aware of the circumstances, under which 'fast fashion' is produced and believes that events such as the Fashion revolution Day pave the way to a better future for everybody involved in the production of fashion.
In exclusive interviews with Garment Printing, the designers express their priorities in their production process. "Not only are good working conditions a necessity, the most important thing is a low carbon impact," states Lorena Sender, one of the participating designers.
All participants of the fashion show exclusively use organic fabrics, hemp, bamboo, tencel and others, and require various certificates for the materials. Another new trend is 'upcycling', which is the process of converting waste materials into new materials of better environmental value.
"We need to remember that if we buy something cheap, it is not really cheap. It is really expensive, because someone is paying for it," said Sylvia Calvo, from the label Sylvia Calvo BCN.
Garment Printing participated in the Fashion Revolution Day to increase awareness of the issues of fast fashion, and to promote its own range of organic clothing and eco-friendly printing techniques.
Garment Printing Director Gavin Drake believes in the idea of Fashion Revolution Day: "We support ethically sourced clothing and are happy that we can make a difference with our participation."
Successful events to raise awareness were held all over the world.
Virginia Rondeel is very happy with the outcome of the day: "Fashion Revolution Day was a very positive experience. Over a hundred people, all on a voluntary basis, have been working together to create a memorable day."
About Garment Printing
Garment Printing is an industry-leading international promotional and customised clothing company that aims to maximise the efficiency of marketing teams and agencies through its integrated, global supply chain.
Garment Printing offers a complete range of bespoke personalised t-shirt printing techniques including screen printing, embroidery, direct-to-garment and the latest dye sublimation t-shirt printing technology combined with express turnaround and excellent customer service.
Garment Printing's agency work involves consultation with global brands, marketing teams and promotional agencies to ensure all printed clothing campaigns are realistic, within budget and effective. Its dedicated team act as extended members of the client's business to efficiently exceed customer and client expectations. For more information visit their website or follow them on LinkedIn, Facebook and Twitter.