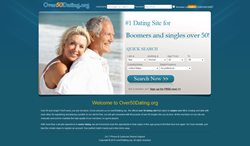 (PRWEB) June 01, 2014
Finding love can be hard at any age but when you are over 50 it can be stressful. More and more people are using online dating sites to find love and friendship with a report claiming people who meet online have a longer lasting relationship than those who meet offline. However, Internet dating seems to be catered for the twenty-something's leaving the single over 50s worried how they are going to find a date. Thanks to over50dating.org, Boomers and over 50s can now date online and meet new people for dates and friendships.
A spokesman for over50dating.org said: "Just because a person is over 50 it does not mean a single man or woman are not interested in meeting new people for long lasting love. 50s is the new 30s and with some the new 20s. A lot of younger people could learn a lot from people in there 50s about dating. We have put the dating site together to make it easy for people to meet each other and let love blossom with our members."
According to a report, men and women over 50 find it difficult to date and meet new people, with most over 50s previously being in a long-term relationship and forgetting the dating skills from their youth. That is why online dating has become popular with over 17% of people now dating online being over 50.
With a dating site, there are no fears about doing or saying the wrong thing as you would on a first date. Through online dating, a person can get to know a person before meeting, removing all the mistakes that may have been made. By the time a couple arranges to meet they have already got to know each other through an online over 50 dating site and will seem more like old friends meeting when they take the plunge on their first date.
Using the over 50 date site is very easy. The team behind the site has made dating simplified and made the whole process very easy. New members can register and place a profile free of charge, making the first step to find love and friendship very easy.
over50dating.org has become the preferred choice for men and women looking for an over 50 dating site. With the site helping men and women find a date in Canada, America and the rest of the world, the dating world has just become much smaller and friendlier.
To learn more about dating for the over 50s, please visit http://www.over50dating.org.
About over50dating.org
over50dating.org is a dating site that makes it simplified for people over 50 to meet and find love.