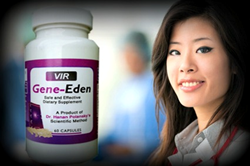 We recommend that individuals concerned about a herpes infection talk to their doctors about Gene-Eden-VIR and Novirin. - Mike Evans, polyDNA
Rochester, NY (PRWEB) May 20, 2014
polyDNA's latest May 2014 survey found that 77% of participants wanted to know if the herpes virus can be deadly. The answer is yes. However, death due to a herpes infection is usually limited to those who develop complications such as herpes encephalitis. This condition is a "serious infection of the CNS (central nervous system), affecting both children and adolescents. It may occur due to primary or latent infection with HSV-1 virus. HSV encephalitis affects one temporal lobe, leading to focal neurologic signs and edema (swelling due to fluid). The disease can be fatal (mortality rate of 70%), if left untreated." (See the Public Health Agency of Canada, last updated September 2011) (1). polyDNA recommends that individuals concerned about herpes talk to their doctors about Gene-Eden-VIR and Novirin. These natural antiviral products share a formula that was proven to reduce herpes symptoms in two post-marketing clinical studies that followed FDA guidelines.
Both herpes simplex type 1 and type 2 can cause herpes encephalitis. "In children older than 3 months and in adults: HSE (herpes encephalitis) is usually caused by herpes simplex virus type 1 (HSV-1) and is localized to the temporal and frontal lobes." (See Patient.co.uk, last updated August 25, 2010) (2).
What ages does herpes encephalitis affect most commonly?
"About 30% of all infections occur in children, either acquired through maternal genital infection at birth or sporadic encephalitis in later childhood. A second peak in age distribution occurs in those older than 50 years, mainly as a result of reactivation of latent infection (2)."
When an individual develops herpes encephalitis, he or she can experience "altered consciousness, focal and generalised seizures, features of raised intracranial pressure, including papilloedema (swelling of the optic disk), focal neurological signs, including hemiparesis (weakness on one side of the body) and cranial nerve lesions, psychiatric symptoms, behavioural abnormalities, confusion and delirium, hallucinations of taste and smell, anosmia (an inability to smell), amnesia, dysphasia (an inability to speak coherently) and visual field loss (2)."
What treatments are available for herpes infections?
"Two types of antiviral treatments against HSV are available: topical and oral. The treatments include penciclovir, acyclovir, famciclovir, and valaciclovir. However, their effectiveness is limited. For instance, a meta-analysis of five placebo-controlled and two dose comparison studies evaluated the effect of aciclovir, famciclovir or valaciclovir on symptoms. The meta-analysis showed that oral antiviral therapy decreases the duration and the associated pain of an outbreak by merely one day." (See Pharmacology & Pharmacy from September 2013) (3). There are also natural antiviral products that studies show to be safe and effective in reducing herpes symptoms. Two of these products are Gene-Eden-VIR and Novirin.
"We recommend that individuals concerned about a herpes infection talk to their doctors about Gene-Eden-VIR and Novirin. The formula of these natural products was designed to help the immune system target the latent HSV." – Mike Evans, polyDNA
Novirin shares the same formula as Gene-Eden-VIR. The difference between the two is that Novirin has higher quality, more expensive ingredients. The Novirin/Gene-Eden-VIR formula was tested in two post-marketing clinical studies published in September 2013 and March 2014, respectively, in the peer reviewed medical journal Pharmacy & Pharmacology.
Interested individuals can view the two published studies here, http://cbcd.net/Gene-Eden-VIR-Clinical-Study.php and http://cbcd.net/Gene-Eden-VIR-Decreases-Fatigue-Clinical-Study.php.
Up to 70% of those studied reported a decrease in symptoms associated with a latent viral infection, and users of the Novirin/Gene-Eden-VIR formula experienced an increase in overall health (3).
Each ingredient of Novirin was chosen through a scientific approach. Scientists scanned thousands of scientific and medical papers published in various medical and scientific journals around the world to identify the highest quality, safest, most effective natural ingredients that target latent viruses.
A second clinical study showed that the Novirin/Gene-Eden-VIR formula decreased physical and mental fatigue. (See Pharmacology & Pharmacy, from March, 2014) (4).
To learn more about Novirin, visit http://www.novirin.com and about Gene-Eden-VIR, visit http://www.gene-eden-vir.com.
All orders of these products are completely confidential, and no information is shared or sold to any third party. Privacy is assured.
References:
(1) Public Health Agency of Canada - Herpes Simplex Virus. Last updated May 24, 2011.
http://www.phac-aspc.gc.ca/lab-bio/res/psds-ftss/herpes-eng.php
(2) Patient.co.uk - Herpes Simplex Encephalitis. Last updated August 25, 2010.
http://www.patient.co.uk/doctor/herpes-simplex-encephalitis
(3) Gene-Eden-VIR Is Antiviral: Results of a Post Marketing Clinical Study. Published in September 2013.
http://www.scirp.org/journal/PaperInformation.aspx?PaperID=36101#.U056hVWSz90
(4) Eden-VIR Decreased Physical and Mental Fatigue in a Post Marketing Clinical Study That Followed FDA Guidelines; Results Support Microcompetition Theory. Published in March 2014.
http://www.scirp.org/journal/PaperInformation.aspx?PaperID=44234#.U056t1WSz90
polyDNA is a biotechnology company that develops dietary supplements using the unique scientific method developed by Dr. Hanan Polansky, which is based on Computer Intuition.
In addition to his unique scientific method, Dr. Polansky published the highly acclaimed scientific discovery, called Microcompetition with Foreign DNA. The discovery explains how foreign DNA fragments, and specifically, DNA of latent viruses, cause most major diseases.
polyDNA developed Novirin, an antiviral natural remedy that helps the immune system kill latent viruses.