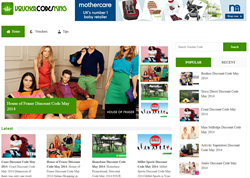 Everything that goes up on the site is checked first so visitors will know that they will get the best discounts available.
London (PRWEB UK) 16 May 2014
Vouchercodesking.co.uk has launched recently in the United Kingdom. The site offers discount codes and deals from the biggest brands available in the United Kingdom.
Online shopping has become a huge part of life in the United Kingdom. It has proven to be incredibly convenient as it can be done on the shoppers' time and eliminates the need to wait in long lines and deal with crowds. In many cases, online shopping has become more popular than traditional shopping. Voucher Codes King hopes to make the online shopping experience even greater and more affordable for its users.
Unlike other existing websites that offer users discounts and vouchers, Voucher Codes King will always be the only site to that is up to date with valid and current offers. The website has a dedicated team that is constantly working to test the codes being offered to its users. Any codes that are not working properly will either be updated or removed.
Voucher Codes King details the numerous discount vouchers that are currently on offer; everything that goes up on the site is checked first so visitors will know that they will get the best offers available. Whether a buyer is looking for a holiday, some designer clothes, a gift or some sports clothes, visitors to the Voucher Code King website will know they are getting high quality goods and services with a discount to make their money go just that little bit further.
In addition to sharing traditional voucher and discount codes, Voucher Codes King will also offer its users shopping tips and the opportunity to share their money-saving experiences with other users by leaving comments. Examples of tips include tips for saving money while furniture shopping and how to save money on clothing purchases. Useful articles explaining to consumers how to make their money go even further by saving money on clothes or furniture shopping, etc. Consumers can also read reviews to find out what other people are saying before committing to buy.
For more information, please visit the company's website, http://www.vouchercodesking.co.uk.
The company also encourages users or potential users to contact them via e-mail with questions or concerns. They can be reached at contact(at)voucherdesking(dot)co.uk.