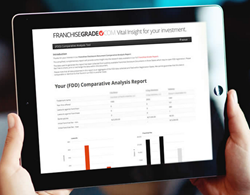 This is a great tool for franchisors like us because it provides 3rd party validation that establishes ourselves as a quality investment option for prospective franchisees" - Matt DeBusk, Great Wraps
New York, NY (PRWEB) May 15, 2014
FranchiseGrade.com, the leader in franchise industry market research has launched their Franchise Disclosure Document Comparison Tool.
FranchiseGrade.com collects over 120 data points from FDDs such as lawsuit statistics, franchisee turnover rates, financial performance representation disclosures, investment costs, territory constraints, Veteran discounts, and many more. The data is compared between franchise systems and trending information is constructed in graphs to provide easy to read comparisons for each franchise system.
Ongoing support of this tool from franchisors points toward an increasingly competitive environment of franchise sales. Franchisors are looking for their competitive edge and FranchiseGrade.com's research provides independent authoritative review of their franchise system's positive traits to use during their sales process.
"This tool is great for franchisors like us because it provides 3rd party validation that establishes ourselves as a quality investment option for prospective franchisees when compared to other franchisors." highlights Matt DeBusk, VP Brand Development at Great Wraps
In the last 12 months, FranchiseGrade.com has surveyed almost 13,000 franchisees and reviewed over 1,200 Franchise Disclosure Documents.
Jeff Lefler, CEO of FranchiseGrade.com states "We have created the most comprehensive franchise system database in the industry that is easily accessible for all stakeholders and we are excited to be on the cutting edge of market research."
For additional details on FranchiseGrade.com products and services, please call 1-800-975-6101 or visit their website.
About FranchiseGrade.com
FranchiseGrade.com is engaged in competitive market research for the franchise industry. Their franchise assessment, grading and reporting business provides stakeholders in the industry with a breadth of data to help build a stronger franchise community and support the growth of successful franchise systems. Their goal is to raise the bar in the franchise industry!