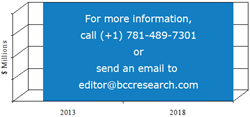 Global Market for Sputtering Targets and Sputtered Films to Reach $3.2 Billion in 2018
Wellesley, Mass., (PRWEB) May 15, 2014
BCC Research (http://www.bccresearch.com) reveals in its new report, Sputtering Targets and Sputtered Films: Technology and Markets, the global market for sputtering targets and sputtered films is expected to grow to $3.2 billion by 2018, with a five-year compound annual growth rate (CAGR) of 1.3%. The electronics market is the largest subsegment in the overall market, followed by the energy category.
Over the years, sputtering targets have become available to satisfy the requirements of an increasing range of applications, including microelectronics, data storage devices, advanced displays, mechanical/chemical, energy, optical coatings, and others. Driven by the rapid expansion of the advanced display market, the electronics segment (including microelectronics, data storage media and advanced displays) is estimated to account for 57.2% of all revenue in 2013.
The energy segment accounted for 28.8% of the total market in 2013, although consumption of sputtering targets for fabrication of solar cells has decreased markedly since 2011.
"In terms of unit volume, the worldwide market for sputtering targets is expected to reach 955 thousand units in 2018, corresponding to a -0.8% CAGR," says BCC Research semiconductor analyst Margareth Gagliardi. "The drop is due to the trend toward the use of fewer but larger targets, reflecting a change of product mix related to the growth of applications such as flat panel displays, optical coatings and solar cells, and a contraction of the market for small targets used in manufacturing circuit devices and data storage media."
Sputtering Targets and Sputtered Films: Technology and Markets provides an overview of the global market for sputtering targets and sputtered films, including analyses of global market trends, with data from 2013, and projections of CAGRs through 2018. It presents an update on the most advanced sputtering methods as well as emerging processes, as well as an overview of materials commonly used for the fabrication of sputtering targets and identification of new materials to be used in the future. In addition, the study includes highlights of new technological developments in the fabrication of sputtering targets while outlining technical issues; discusses trends in related U.S. patents and worldwide patents issued during the most recent years; and provides profiles of major players in the industry.
This report is intended primarily for companies involved in the manufacture, sale, and distribution of sputtering targets; the fabrication of thin-film devices or coated products; as well as those that offer sputter deposition and coating services to the thin-film industry. Additionally, it will be of interest to those planning to enter the sputtering industry as a supplier, manufacturer, or end user.
Editors and reporters who wish to speak with the analyst, should contact Steven Cumming at steven(dot)cumming(at)bccresearch(dot)com.
About BCC Research
BCC Research publishes market research reports that make organizations worldwide more profitable with intelligence that drives smart business decisions. These reports cover today's major industrial and technology sectors, including emerging markets. For more than 40 years we've helped customers identify new market opportunities with accurate and reliable data and insight, including market sizing, forecasting, industry overviews, and identification of significant trends and key competitors. We partner with analysts who are experts in specific areas of industry and technology, providing unbiased measurements and assessments of global markets. Our clients include the top companies in industries around the world as well as universities, business schools, start-ups, consulting firms and investment companies. BCC Research is a unit of Eli Research LLC. Visit our website at http://www.bccresearch.com. Contact us: (+1) 781-489-7301 (U.S. Eastern time), or email information(at)bccresearch(dot)com.
Data and analysis extracted from this press release must be accompanied by a statement identifying BCC Research LLC, 49-2 Walnut Park, Wellesley, MA 02481, Telephone: (+1) 781-489-7301; Email: editor(at)bccresearc(dot)com as the source and publisher. Thank you.