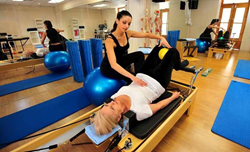 It's possible to 'retrain' the muscles of the abdomen and spine in order to support the back.
(PRWEB) May 17, 2014
Some of the general and well-known benefits of Pilates include boosting flexibility and core strength. But the routine has also been known to benefit particular health conditions such as sciatica (back pain), headaches and even improve posture. Not only that but it is also viewed as a preventative routine since the improved circulation it provides can lessen the chances of heart disease, diabetes and arthritis. Exercise meanwhile, will also improve bone density thereby staving off the worse effects of osteoporosis.
Following a survey in which former professional dancer and now Inner Strength Pilates coach and owner Gollan amassed the 20 most common questions about Pilates she published the article Pilates Classes Adelaide Helps With These 20 Common Health Questions.
One of the most common questions asked was whether the exercise routine could help with back pain. Gollan, a former professional dancer, was able to point out that around 90 per cent of clients who attend her company's rehabilitation studio at Hyde Park, do so because of a back injury.
"It's actually possible to 'retrain' the muscles of the abdomen and spine in order to support the back and lessen pain overall," she said. "And the best thing about this process is that it's long-term."
Another common question Gollan and her team of two coaches get asked regularly is whether or not the exercise is safe during pregnancy. She responded by answering that not only is it safe but it is actually beneficial. This is because it can help to make delivery easier, among other advantages. It is also a popular post-natal exercise.
Pilates is also beneficial for those who don't have a lot of patience – due to the fact it does not take long to see results provided the exercises are carried out regularly and in consistent manner.
For those who haven't tried the exercise routine, Pilates is often referred to as being 'similar to yoga.' There are similarities, admits Gollan in that both are aimed at improving balance and co-ordination between the mind and body. However they differ in the sense that Pilates focuses on movement and ease between positions while yoga concentrates on holding specific positions for a certain time.
Headaches and shoulder pain are another two conditions which are said to benefit from regular Pilates training (the latter through stretching and strengthening the injured area). Sciatica is another condition that can benefit.
Pilates isn't famed for weight loss however it is well known for its body toning effects and performing any type of exercise will always build up more calories than being stationary.
Those who consider themselves not very flexible body-wise can also benefit from the exercise routine since it helps loosen up muscles, doesn't put any strength on the joints and looks towards lengthening the spine. It's this emphasis on fluidity which can minimise the risk of injury in other activities.
Even top athletes can benefit from attending Pilates tuition, not just in terms of flexibility for overall sports performance, but also in terms of repairing injured muscles. Pilates works by increasing blood flow to the injury site. As a result of this no muscle degeneration occurs and healing tends to be quicker.
Inner Strength Pilates currently operate three studios in Adelaide's King William Road area. Their website offers a range of Pilates and Barre classes to choose from, as well as rehabilitation sessions.
A schedule of classes can be viewed on the website while company updates can be found via the Inner Strength Pilates social media accounts such as Facebook and Google Plus. For more information see here.