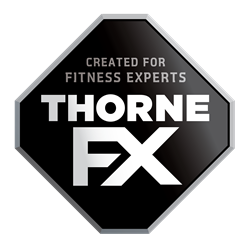 ...like each of our advisory team members, Ben walks his talk.
New York, NY (PRWEB) May 16, 2014
ThorneFX announces the addition of its new Advisory Team member, Ben Greenfield. Greenfield, owner of Greenfield Fitness Systems, is a registered dietician, endurance expert, and author of the new training, nutrition, and biohacking book Beyond Training.
Greenfield has been voted by the National Strength and Conditioning Association as America's top personal trainer and by Greatist as one of the Top 100 Most Influential People in Health. Ben is the owner of Ben Greenfield Fitness and Greenfield Fitness Solutions.
"Not only does Ben add another frame of reference for designing and using nutritional supplements and lab testing, he also loves writing and delivering web-based and live education," said Tom Nikkola, Vice President and General Manager of ThorneFX. "I'm excited to have Ben on our advisory board to help educate fitness professionals. As an experienced dietitian, he's savvy about lab testing and supplements, but also understands how to use these tools to enhance clients' health, fitness and performance outcomes. I'm excited to have him a voice for ThorneFX and look forward to the education he can offer fitness professionals. Also, like each of our advisory team members, Ben walks his talk."
On joining the ThorneFX Advisory Board, Greenfield said, "It is incredibly difficult to find trusted supplements that contain quality raw ingredients, that meet the true needs of athletes and high achievers, and that are designed by people who care about being healthy on the outside and healthy on the inside. But ThorneFX does all that and more. I am extremely excited about this new alliance."
Ben joins a group of well-respected fitness experts on the ThorneFX Advisory Board including Dr. John Berardi, Bob Seebohar, Joel Jamieson, Jaime Martinez, Dr. Rachelle Viinberg, and Jim Kean.
About ThorneFX
ThorneFX offers nutritional supplements and lab testing, designed specifically for fitness professionals and their clients. ThorneFX was introduced in January, 2014.
ThorneFX is a Thorne Research brand.
Since 1984, Thorne Research has set the standard for exceptional quality manufacturing and formulation of premium hypoallergenic dietary supplements available through licensed healthcare practitioners. With more than 400 products, healthcare practitioners recognize Thorne Research as a global leader in providing dietary supplements of the highest quality and purity. With locations in Sandpoint, ID, and New York City, Thorne Research operates a state-of-the-art manufacturing facility and employs more than 220 people. Further information on ThorneFX, please visit http://thornefx.com.