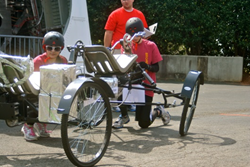 (PRWEB) May 17, 2014
On April 11 and 12 Broad Run High School (Ashburn, VA.) and C. S. Monroe Technical School (Leesburg, VA), competed in the first ever NASA ROVER CHALLENGE. This competition was an extension of the retired MSFC MOONBUGGY challenge that was held successfully for 20 years. These two schools were not only the only schools to compete from the entire state of Virginia, but were the first schools in the Commonwealth's history to have the competition as part of a rigorous curriculum designed by physics teacher Jeff Taylor at Broad Run High School. The curriculum is an Integrated STEM Initiative and is not only cross-school, but cross-curriculum and cross-technology as well.
The students were tasked with designing a rover to complete the .75 mile course at the US Space and Rocket Center in Huntsville, AL. The students were required to validate their design from first principles and were exposed to a variety of design tools. From learning to write programming for a C and C machine, to creating CADD drawings to then be created by 3D printers the students were fully immersed in the overall design of the rover. Many learned to weld, grind, cut, and manipulate chrome-moly steel as well. Senior Welding Instructor Damon Putman oversaw the metal fabrication of the rover at C.S. Monroe Technical school.
The end result was the team placing in the top half of all universities and high schools in this international competition. Teams came from Russia, Germany, Puerto Rico, Mexico, India, Australia, as well as, from all over the United States. The amount of practical engineering applications that was learned by all involved was incredible.
Trident Systems has a growing space payload practice and recognizes the value of programs such as this as a means to channeling our best and brightest to maintain the United States leadership in space.
About Trident
Trident Systems is a veteran-owned small business that delivers innovative and affordable technology solutions for critical government and commercial needs. Founded in 1985, Trident continues to harness technology and provide leading-edge solutions to every Military Service, the Intelligence Community, and a broad spectrum of government and industry partners. Trident develops products in three primary focus areas: Integrated C4I systems, Radar Systems, and Assured Collaboration Systems. Trident also provides an array of services from Complex Systems Engineering services for complex system development as well as Collaboration Services, providing a full range of design / build services for state of the art facilities including supporting of the Integrated Air Defense System in the National Capital Region. Trident's headquarters is located in Fairfax, Virginia. For more information, visit http://www.tridsys.com/.