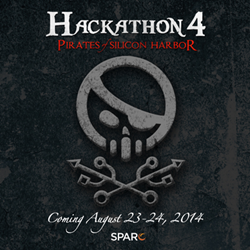 Hackathon 4 will be our biggest celebration of tech thus far, and will bring together the area's talent in a fun and creative way.
Charleston, SC (PRWEB) May 15, 2014
SPARC, currently ranked by Inc. 500 as America's fastest-growing software company, has opened registration for Hackathon 4, its annual mobile application development competition. Hackathon 4: The Pirates of Silicon Harbor is now accepting registrations for teams who wish to compete in the two-day programming event on August 23-24, 2014 at SPARC's headquarters in Charleston, SC. Teams will design, develop, and pitch mobile apps to win cash prizes at the Lowcountry's premier technology competition.
SPARC will host Hackathon 4: The Pirates of Silicon Harbor on August 23-24 at its Charleston, SC headquarters on Daniel Island. Attendees of the fourth annual coding competition will include team contestants, sponsors, volunteers, SPARC staff, and the general public. In 2013, over 1000 people attended Hackathon 3D, including 34 teams and 84 contestants. Over 4 million lines of code were written over the 26-hour event, with Columbia, SC-based team App Life 3 winning the Best in Show grand prize.
"We see SPARC as the biggest people, idea, and technology incubator in Charleston, and our annual Hackathon is great way to share this vision with our growing community," said Eric Bowman, CEO, SPARC. "Hackathon 4 will be our biggest celebration of tech thus far, and will bring together the area's talent in a fun and creative way."
On Saturday, August 23, registration at the event will begin at 8:00 a.m. with the opening kickoff and idea selection commencing at 9:00 a.m. Teams will then have from 10:00 a.m. until 9:00 p.m. to develop their idea into an application, then build and deploy their app from 9:00 to 11:00 p.m. The onsite after party begins at 9:00 p.m., so development teams will be finishing and troubleshooting while excitement happens all around them.
On Sunday, August 24, Hackathon 4 opens to the public and teams at 10:00 a.m. for the first round of judging and hands-on demos for spectators. During this same time, all attendees will be welcome to code camp classes on mobile app development, presentations by sponsors, and onsite attractions like the video game lounge, live music, and food vendors. After the top 10 apps have been determined by judges, demos will begin at 3:00 p.m., with voting and awards at 4:00 p.m. The full schedule can be found at http://hackathon.sparcedge.com/schedule
Registration for Hackathon 4 is now open. Visit hackathon.sparcedge.com to register teams of one to three participants. Spectators and volunteers can also sign-up for more information, and businesses looking for sponsorship opportunities can visit http://hackathon.sparcedge.com/sponsors.
About SPARC
SPARC is a software product development company creating engaging, forward-thinking technology while keeping Team Members at the core of everything we do. With offices in Charleston, South Carolina and Washington, D.C., SPARC provides software development services for the government and commercial sectors, and develops commercial software products for the executive leadership, human resources, big data analytics, and mobile markets. In 2013, SPARC was ranked by Inc. 500 as the 14th fastest-growing private company in the U.S. Come by for a tour and see SPARC's award-winning culture for yourself, or learn more at http://www.sparcedge.com.