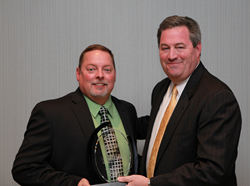 "viastore is quickly becoming one of Hytrol's fastest growing integration partners and we appreciate the relationship that has been established." - Gregg Goodner of Hytrol
Grand Rapids, Michigan (PRWEB) May 16, 2014
viastore systems, a leading material handling automation systems and software company, announced that the company has been named among the Top 6 largest Hytrol distributors for 2013. The company became a Hytrol distributor in 2010 and was the fastest growing company to reach the top 6 in the history of Hytrol.
"Being named a top integrator for 2013 is a great honor for viastore and highlights our strong partnership with Hytrol," said Tom Tobin, viastore CEO and president. "The fact that we did this in the shortest time of any Hytrol distributor in their history shows viastore's level of growth as a system integrator."
For Hytrol, viastore illustrates the level of partnership Hytrol looks for in their integration partners. "We were excited to be a part of viastore's success in 2013, and appreciate their sales and support efforts," said Gregg Goodner, Hytrol president. "It was a pleasure to celebrate the Top 6 achievement with Tom Tobin of viastore. viastore is quickly becoming one of Hytrol's fastest growing integration partners and we appreciate the relationship that has been established with Tom and the viastore team."
About viastore systems
For over 40 years, viastore systems has been a leading international provider of automated material handling solutions including AS/RS (automated storage and retrieval systems) and conveyor systems, warehouse management systems software, material flow and process controls, and integrated SAP logistics solutions. The company employs over 400 people worldwide and has annual sales of over $207 million.