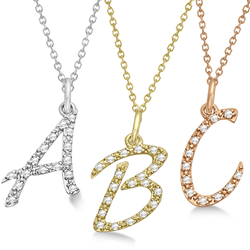 People are proudly displaying their own "me-centric" jewelry with custom designs and individualized accessories.
New York, New York (PRWEB) May 19, 2014
Everyone has their own personal taste, fashion sense, and style, and choose fashions and accessories that help create a personalized fashion statement. A large part of that statement centers on jewelry accessories that help individuals really set themselves apart. With a growing trend in genuinely personalized jewelry including initial necklaces and monogram jewelry, their wish has become a reality.
Over the past several years, name necklaces have become a huge trend; thanks in large part to its popularity in the hit show Sex in the City. Adding to this trend, the introduction of initial necklaces of many styles have hit the ground running with each initial worn representing either the wearers own first name initial or those of their children, grandchildren or significant others.
"Many of our customers are looking for truly personalized jewelry, choosing initial necklaces, as well as selecting options like, designing their own jewelry, earrings and engagement rings. The initial reaction to our introduction of individual initial pendants, discs, and stunning monograms of different metals, has been overwhelmingly positive. In fact, it has become a very fashion-forward gift item, especially for valentine's day and mother's day. We expect it to grow even more popular as graduations grows near, and as a push-present, these initial discs and other personalized styles remain hot" said a spokeswoman for Allurez, a top online jewelry designer and retailer.
The red carpet is filled with celebrity moms' latest obsession – personalized jewelry that honors their baby's name. And people on the street are proudly displaying their own "me-centric" jewelry with custom designs and individualized accessories.
The trend for personalized jewelry is here to stay with new categories being created daily for those who are looking to accentuate their personal style through unique jewelry accessories. The fun has just begun and the only limits are your own creativity.
About Allurez.com:
Operating as an innovative and robust retailer and designer of exceptional jewelry from the heart of NYC, Allurez is recognized for providing the largest selection of designer style jewelry for men and women including engagement rings, wedding bands, bracelets, necklaces, pendants, earrings, and certified loose diamonds. Designed using the finest metals and gemstones, Allurez provides custom made jewelry for customers seeking the finest jewelry available.
For additional information about any of Allurez products including all customized jewelry, please contact Allurez.com or call 1.800.554.3509 for details.