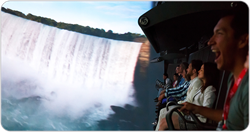 We chose the Christie D4K3560 projector solution because we needed the brightness and intensity to light a 19-meter diameter surface area.
Kitchener, Ontario (PRWEB) May 22, 2014
Christie® technology is taking people on an unforgettable journey across Canada - without flight delays, congested airports or jetlag. A spectacular new flight simulation ride called FlyOver® Canada launches guests into a thrilling immersive experience including the jagged peaks of the Canadian Rockies, cosmopolitan cities, the rugged East Coast and more via the Christie D4K3560 3-chip DLP® projector and images produced by Sherpas Cinema.
Installed at Canada Place in downtown Vancouver, British Columbia, FlyOver Canada also features Uplift, a preshow presentation produced by the award winning Montreal-based Moment Factory using eight Christie DWU675-E 1-chip DLP® projectors.
Christie: The Brightest and the Best Choice
"As we built up the company we started talking to Christie about various aspects of this project. Moment Factory then specified Christie for the preshow projectors so that got us hooked up with the (Christie) DWU670-E projectors," said Eric Sambell, director, construction & technology, Soaring Attractions.
"After considerable research by the technical and creative team at Soaring Attractions, the owner/operator of FlyOver Canada concluded that Christie was also the clear 4K projector choice for the main ride.
"We chose the Christie D4K3560 projector solution because we needed the brightness and intensity to light a 19-meter diameter surface area. Obviously we needed the brightest projector and as much resolution as we could get," continued Sambell. "That meant a 4K solution but because it's a motion ride we needed 60 hertz to avoid motion blur - which led us to the D4K3560."
The Christie D4K3560 projector is part of the Christie TruLife™ electronics platform offering customers superior image and video quality for the most comfortable and realistic viewing experience.
Christie Steps up and does it Right
"The projector sits out on a perch, which made it a bit of challenge but the installation went smoothly and Christie made sure everything was perfect; they came through with everything right when we needed it. Everyone, from the Christie field application engineers to Geoff Chick (central and western regional sales manager, Canada), really stepped up and made things right."
The show opened last summer and, according to Sambell, ran at capacity on weekends and well-exceeded expectations in the months that followed. He said people have returned up to ten times and the reaction from people of all ages has been overwhelmingly positive.
Christie DWU675-E 1-chip DLP® projectors provide trusted performance, reliability and exceptional image quality. Ideal for small auditoriums, boardrooms, classrooms and houses of worship, the Christie DWU675-E delivers image blending and warping, stacking capabilities and precision color matching for use in either fixed or rental staging applications.
About Soaring Attractions LP
FlyOver® Canada was developed by Soaring Attractions LP, a partnership involving two experienced Vancouver tourism entrepreneurs, Stephen Geddes and Andrew Strang, and Aquilini Investment Group, the owners of the Vancouver Canucks. Soaring Attractions has put together a team of experts in themed entertainment from around the world to create a series of unforgettable destination attractions that deeply impact guests and the community alike. For more information go to http://www.soaringattractions.com.
About Christie
Christie Digital Systems USA, Inc. is a global visual technologies company and is a wholly-owned subsidiary of Ushio, Inc., Japan. Consistently setting the standards by being the first to market some of the world's most advanced projectors and complete system displays, Christie is recognized as one of the most innovative visual technology companies in the world. From retail displays to Hollywood, mission critical command centers to classrooms and training simulators, Christie display solutions and projectors capture the attention of audiences around the world with dynamic and stunning images. http://www.christiedigital.com.
Follow Christie at:
Twitter.com/christiedigital
Facebook.com/christiedigital
#christiedigital
"Christie" is a trademark of Christie Digital Systems USA, Inc., registered in the United States of America and certain other countries.
Christie TruLife™ is a trademark of Christie Digital Systems USA, Inc.
DLP® is a registered trademark of Texas Instruments.
FlyOver® is a registered trademark in Canada and other jurisdictions of Soaring Attractions LP. All rights reserved.