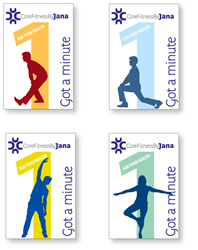 Jana's approach is simple, safe, professional and engaging and that's what drew us to her product. Laura Sullivan, Health Systems Group Wellness Programmer
New York, New York (PRWEB) May 19, 2014
CoreFitnessByJana just released fourteen (14) new "Got A Minute For Your Health" one to two minute exercise videos expanding the collection to over 25 in office fitness routines. Unlike most informational wellness program fitness content, the Got A Minute series delivers instructor lead exercises that foster movement during the workday and combat the negative effects of prolonged sitting.
The "Got A Minute" series uses stretches and body weight exercises appropriate for all fitness levels to improve circulation, release tension and stretch muscles shortened while sitting. According to founder Jana Sanford "Got A Minute" was developed not only to provide immediate exercise in the workplace at the time and place wellness programs have the greatest influence but also to educate employees on exercises they can infuse into their daily lives anytime and anywhere.
Sanford reports, "I recently did an in-person 10 minute stretch session with Got A Minute client SinglePoint Care Network. These nurses raved over how good it felt to get up from their desks and move and indicated that small amount of exercise helped refresh their focus and maintain their patience with their frail elderly clients. Their feedback reinforces my founding principle that happy, healthy employees are more productive and effective."
About CoreFitnessByJana
CoreFitnessByJana.com was founded by certified Pilates Instructor, ACE Certified Personal Trainer and Wharton MBA Jana Sanford with the goal of making fitness accessible and affordable for anyone at anytime.
CoreFitnessByJana provides a wide variety of online 10-20 minute fitness workouts as well as over 25 simple 1-2 minute "Got A Minute" do anytime exercise solutions available through licensing agreements, mobile apps or online membership to individuals. corporations, wellness and hospitality companies.
For more information about our Corporate Wellness Fitness Solutions, contact: health(at)corefitnessbyjana(dot)com or jana(at)corefitnessbyjana(dot)com.