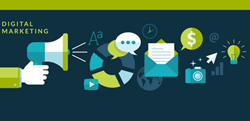 Don't turn SEO into your primary activity. Remember that your primary goal is to focus on what you do best—your business. Good business is the foundation of good SEO.
Walnut, CA (PRWEB) May 19, 2014
Enerica, a digital agency that offers a comprehensive suite of web services to help businesses get online, regularly provides its clients with expert advice regarding the search engine optimization (SEO) process.
"In general, the earlier and more highly ranked a site is on the search results page and the more frequently a site appears in the search results list, the more visitors it will receive from the search engine's users," said Albert Novikov, managing director for Enerica. "Generally speaking, our approach to SEO is based on two very simple principles: organically maximize the number of inbound links from websites with high domain and page authority and make pages machine-readable by applying consistent on-page optimization for key pages." Enerica has published a practical SEO guide to help business owners with their SEO efforts.
With respect to SEO, Enerica recommends to focus on the digital strategy first. Albert advises, "Before you even mention the term "SEO," ask yourself, what do I have to offer the world, why is it unique, and why would anybody want it? Do you have a digital strategy covering all your digital communications channels? Remember that you are competing with millions of other websites. Theoretically, you could spend lots of time on SEO and get to that coveted first page just to learn that customers don't find your content, products, or services appealing."
Enerica emphasizes, "Content is truly king and even more so with the recent Google Hummingbird algorithm revolution. Google's ingenuity became even more evident in the simplicity of the approach—provide valuable, engaging, timely content and you will rank well."
Another effective SEO strategy is link-building, "Earned links are the cream of the crop in the SEO world and will generate more SEO juice (ranking power) than any other medium. An earned link is simply a link created by a third party without your involvement or persuasion."
Strategically placing backlinks on web directories can help your local clients find you on the web and boost the search rank. However, Enerica recommends that its clients focus on the directories specializing in their respective industries, because Google will assign these links a higher value. "Placing your listings on web directories should be used to help local clients find your business on the web, not to advance your SEO agenda. These directories are usually organized geographically, by sector and by theme. Make sure you list your business correctly," Novikov said.
Enerica recommends to be selective with the websites where backlinks are placed. Websites that have a domain authority above 50 provide best ROI. "We rely on the domain authority metric developed by Moz," Novikov said. "It marks all websites on a 100-point, logarithmic scale—the higher you climb, the harder it gets. We use the Moz Chrome plugin to determine domain authority for our sites, and we only work with relevant directories that have a domain authority above 50."
While Novikov admitted Enerica's approach can make SEO work expensive, he said that it's worth it because "it gives our clients peace of mind and ensures their links bring in high-quality SEO juice (ranking power)."
The company has found that the number of high-quality free directories is limited and that clients will often have to wait for months just to be listed or rejected by them. According to Albert, "With most quality directories, you may have to wait for months. There is a simple reason for this: competition. Everyone else wants to be there for free. Some directories provide the option to pay for an expedited review process. When we say the word "pay," we don't mean paying for placement; we mean paying for a quick review, which is usually two to three business days. Your listing still might be rejected after you pay."
To make your content findable, Enerica recommends on-page SEO optimization, "SEO is not a science but rather a commitment to certain principles. It's not the complexity of these principles that makes consistent SEO challenging but rather relentless discipline and a commitment to applying them." Enerica recommends to consistently use these SEO on-page optimization techniques.
"For one of our projects, website for a real estate agent in Rochester MN," Albert said, "just by optimizing pages, we were able to see a 40% increase across key metrics month-to-month and a 14% increase in year-to-year visits, page views, and time on page just by properly optimizing key pages. Our regional geometrics also improved by 24%."
Albert concluded, "There are many more SEO techniques available, but we focus the ones we believe provide the best return on investment. Ultimately, you will have to decide for yourself what SEO work is manageable for you in the long run. Don't turn SEO into your primary activity. Remember that your primary goal is to focus on what you do best—your business. Good business is the foundation of good SEO. Finally, we would be happy to take a look at your website and provide free SEO review and high level recommendations."