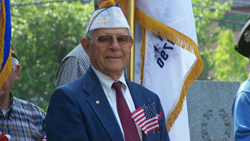 Stevens is proud to honor Mr. deFerrari, someone who exemplifies what defines Stevens graduates.
Hoboken, N.J. (PRWEB) May 15, 2014
At 89 years old, Kenneth deFerrari is still checking off items on his bucket list. The World War II veteran attended Stevens Institute of Technology in the 1950s but, due to a job transfer, was forced to drop out just shy of obtaining the necessary credits for graduation. Now, more than 60 years later, he will receive an honorary Bachelor's Degree from the university he very much considers his Alma Mater.
"I'm feeling very proud," said deFerrari. "I always said I had the knowledge and experience, I was just missing the piece of paper."
Although unable to complete his degree, the knowledge he gained during his time at Stevens enabled him to become a pioneer in the field of metallurgy. Mr. deFerrari's resume lists some very impressive positions including more than 40 years moving up the ladder at Abex Corporation, the former American Brake Shoe Company.
Formal nomination of deFerrari for the honorary degree was made by New Jersey Assemblywoman Holly Schepisi.
"Stevens is proud to honor Mr. deFerrari, someone who exemplifies what defines Stevens graduates," said Nariman Farvardin, President of Stevens. "Mr. deFerrari used the knowledge gained in his three years at Stevens to blaze a stellar career in metallurgy and, with persistence and ingenuity, rose to one of the highest positions within his company."
Mr. deFerrari retired from Abex in 1988 as Global Manager of Worldwide Foundry Research and Development. Since then he has held several public positions in Mahwah, New Jersey on the planning board and town council.
Mr. deFerrari's wife and daughter will accompany him as he receives the honor at the Stevens undergraduate graduation ceremony May 21, 2014 at the IZOD Center. Media wishing to attend should contact Danielle Woodruffe, Director of Public Relations, at dwoodruf (at) stevens.edu or 201.216.5139.
About Stevens Institute of Technology
Stevens Institute of Technology, The Innovation University®, is a premier, private research university situated in Hoboken, N.J. overlooking the Manhattan skyline. Founded in 1870, technological innovation has been the hallmark and legacy of Stevens' education and research programs for more than 140 years. Within the university's three schools and one college, more than 6,100 undergraduate and graduate students collaborate with more than 350 faculty members in an interdisciplinary, student-centric, entrepreneurial environment to advance the frontiers of science and leverage technology to confront global challenges. Stevens is home to three national research centers of excellence, as well as joint research programs focused on critical industries such as healthcare, energy, finance, defense and STEM education and coastal sustainability. The university is consistently ranked among the nation's elite for return on investment for students, career services programs, and mid-career salaries of alumni. Stevens is in the midst of implementing a 10-year strategic plan, The Future. Ours to Create., designed to further extend the Stevens legacy to create a forward-looking and far-reaching institution with global impact.