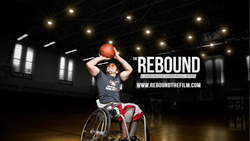 'The Rebound' will have a positive impact, helping to break down barriers and show that it is possible to overcome life's greatest challenges.
Miami, FL (PRWEB) May 20, 2014
Filmmakers Shaina Allen and Michael Esposito, of Shaina Koren Cinematography, have launched an Indiegogo crowdfunding campaign at http://www.reboundthefilm.us to raise funds to produce 'The Rebound: A Wheelchair Basketball Story', a documentary about disabled athletes affected by extreme adversity and the impact of wheelchair basketball on their journey to find a new path in life.
The film follows players of the Miami Heat Wheels wheelchair basketball team over the course of two years and captures the team's quest to rise to the top ranks of the league.
Shaina Koren Cinematography has been documenting the Heat Wheels since 2012 and partnered with From the Heart Productions, Inc., a 501(c)3 organization who is a fiscal sponsor of their film. All donations made at http://www.reboundthefilm.us are tax-deductible, where the complete two-minute film trailer can be viewed.
Shaina Koren Cinematography began their Indiegogo crowdfunding campaign at Reboundthefilm.us in April 2014, and has earned more than $15,000 in donations, but needs $50,000 to complete the film.
The Rebound highlights the sport of wheelchair basketball and its impact on the lives of disabled athletes. Featuring stories of traumatic injury, recovery and overcoming adversity, the documentary will tell the story of these adaptive athletes as they face challenges on and off the court.
Player stories on-screen include the men of the Miami Heat Wheels, select Paralympic athletes, and wheelchair basketball Hall-of-Famers, too.
Miami Heat Wheels is a 501(c)3 non-profit organization and competitive Division III wheelchair basketball team originally started in 1992. They are a member of the National Wheelchair Basketball Association (NWBA) and earned an appearance in the 2013-14 National Championships by finishing in the US Top 25 rankings.
"Before starting this documentary, I was really uncomfortable talking about disability. Our parents tell us not to stare when we're children, not to be curious," said Film Director Shaina Allen, "This creates a subconscious barrier that we never confront. 'The Rebound' will have a positive impact, helping to break down barriers and show that it is possible to overcome life's greatest challenges."
"Two years ago, we had no idea that meeting the Miami Heat Wheels would be a transformative life experience," said Mike Esposito, Producer at Shaina Koren Cinematography, "the group inspired us to capture an untold story which can make a positive impact on others."
Contact Information & Important Links:
All inquires to: Mike Esposito, mike(at)reboundthefilm(dot)com
Indiegogo Campaign: reboundthefilm.us
Official Website: reboundthefilm.com
Facebook Page: facebook.com/reboundthefilm
Twitter: @reboundthefilm