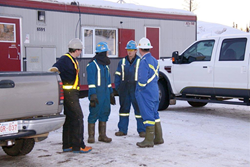 I have found that having Marketplace Chaplains in my company, helping my people ... has been tremendously beneficial. - Fred Caldwell, CEO Caldwell Companies
Plano, Texas (PRWEB) May 17, 2014
U.S. Companies, Big and Small, Use Unique Benefits to Retain Key Employees
In today's increasingly competitive job market, fueled by the recent U.S. economic rise, many companies are looking for ways to keep their best employees. That's why more than 100 new companies turned to Marketplace Chaplains as a strategic workplace benefit in 2013-2014.
A recently completed six-year study of businesses across the world, ranging in size from 27 to 126,000 employees and in various industries, quoted in the Ivy Business Journal,1 showed businesses could retain employees through four key measures, including the realization that the firms' success depends on the quality of the work performed by the majority of workers.
That's exactly what CEO, Fred Caldwell, of Caldwell Companies, a Houston Real Estate Services and Development company, found when attempting to guide his company through the boom and bust cycle of Texas land management. "How many of us (CEOs) are charged with managing people every day?" he asked. "I do that every day and I have found that having Marketplace Chaplains in my company, helping my people and being able to bounce ideas and situations off of them, has been tremendously beneficial."
Marketplace Chaplains, America's largest and original workplace chaplaincy organization, celebrating its 30th Anniversary, currently serves 601 clients at 3,208 service locations, in 46 states, 993 cities, 4 foreign countries and 1 commonwealth, with more than 2,800 chaplains, caring for over half a million employees and their family members in today's increasingly hectic and combative workplace.
"It's all about helping others in the workplace, that's the most important thing," said Ken Mills, Senior Vice President of Business Development & Marketing for Retirement Advisors, a Dallas-area based company.
In a humorous column written by Mel Kleiman, President of Humetrics, and published on the TLNT website, he listed the top 10 ways to guarantee that your best people will quit. Among the items listed was, "don't develop an employee retention strategy."2
David Weekley, Chairman of extensive home building firm, David Weekley Homes, credits Marketplace Chaplains as a big part of the reason his company has been named to FORTUNE Magazine's "100 Best Companies to Work For," seven times. "The chaplain program is a low-cost employee benefit that has garnered us more loyalty than our other 'standard' benefits and has resulted in lower turnover, improved morale and a general sense of 'caring' on the company's part about our employees' 'well-being," he said.
In 2013, 100+ new companies began to work with Marketplace Chaplains, seeing it as a way to keep key personnel, especially where improving economies in many sectors have made employee retention more of a challenge than in the past.
"The enthusiasm and excitement these visionary CEOs declare for Marketplace Chaplains as a key method to retain their most valuable workplace resource, their employees and family members is so encouraging," said Richard S. De Witt, Executive President and COO of Marketplace Ministries Inc.
For more information on this employee benefit which has been featured with NBC Nightly News, and in the Washington Post, the New York Times and Bloomberg BusinessWeek, visit http://www.mchapusa.com.
To arrange an interview with a Marketplace Chaplain, contact Art Stricklin, Vice President Public Relations, at artstricklin(at)mchapusa(dot)com or call 1-800-775-7657.
References:
1 http://iveybusinessjournal.com/topics/the-organization/how-businesses-can-profit-from-raising-compensation-at-the-bottom#.U3N_krAU_cs
2 http://www.tlnt.com/2013/04/08/hiring-wisdom-top-10-ways-to-guarantee-your-best-people-will-quit/