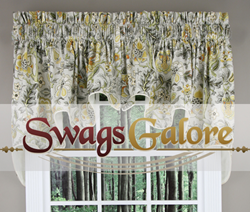 'We selected over a 1000 new styles at Market Week.'
Lakeville, PA (PRWEB) May 15, 2014
As America's leading provider of curtains and window décor, Swags Galore was thrilled to attend last month's highly renowned Market Week in NYC for the very first time. After being urged by some of the industry's newest suppliers, the curtain retailer was enticed to attend the home décor trade show to survey the latest products being featured in the market. The owners of Swag Galore fared well by the close of the event, returning home to Pennsylvania with over 1000 new items to add to their vast online collection of curtains and window accessories.
From the assortment of new items, the owners are most excited about the faux lined macramé, lined voile, inexpensive insulated line, and outdoor curtains purchased from the show's vendors. The owners of Swag Galore, Melinda and Eugene West, went to the exposition with the intent to find especially unique products, surveying the booths for fancy valances and extra-long or oddly shaped panels in particular. The main suppliers that Swags Galore favored during the search were A.L. Ellis, Commonwealth Home Fashions, S. Litchenberg, Stylemaster, Twill & Birch, RHF, & Ellery Home Styles.
Swags Galore is a top online provider of window décor and accessories, which includes curtains, valances, and window hardware, all available for purchase through its online store. Melinda and Eugene West first started the business back in 1999 to pursue their passion for curtains, reflected through the vast assortment of quality window-wear at affordable pricing seen on their company website. The site features curtains of every type, color, style, and design, demonstrating the owners' commitment to providing customers with unlimited options at unbeatable deals.
The products purchased during Market Week are sure to enhance the diverse range of items offered by the curtain retailer, which have already been uploaded onto the website and are now available for purchase. Founded and owned by true window décor aficionados, people will not be able to find a more comprehensive catalog of quality items for the same affordable prices anywhere else. Swag Galore is the ultimate one-stop online shop for anyone's curtain needs.
For additional information on Swags Galore or its window décor products, please visit: Swagsgalore.com.
About Swags Galore Inc.:
Swags Galore was founded by Melinda and Eugene West of Shirley, New York in 1999. It was Melinda's vision to sell affordable window treatments online and in 1999 she designed and launched their first website, originally selling scarf panels she made from home. In 2000, the business outgrew Melinda and Eugene's home and they expanded into a warehouse in Yaphank, New York, quickly out growing that. In 2005, Melinda and Eugene made the decision to move to Lakeville, Pennsylvania where they built their corporate headquarters and distribution center. Today, the company is the leader in their industry, selling low-cost window treatments to retail consumers. To learn more about Swags Galore and their products, visit http://www.swagsgalore.com.