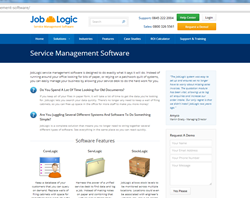 Actually showing companies how much money they can save has been the most effective way of selling the software.
Birmingham, UK (PRWEB UK) 21 May 2014
JobLogic have today unveiled their freshly re-developed core website at http://www.joblogic.com. The final product comes after months of meticulous research into visitors and their usage patterns to discover the best method of engagement.
After a detailed look at important factors including user experience, providing relevant content and SEO considerations amongst others, JobLogic now has a website that clearly shows what the software does and how it adds value to service management companies.
User experience was top of the list, with a strong emphasis placed on providing an attractive interface and helping the user to find the information they need quickly and efficiently. To achieve this, pages were designed focusing on the solutions JobLogic provides for customers who are looking to manage various aspects of their field service operation including office based staff and mobile workers.
One of the biggest improvements is the new Return on Investment (ROI) calculator, which has been redesigned to make completing it easier for the user, while still providing useful information to base the decision to take up JobLogic. "Over the years, I've found that actually showing companies how much money they can save has been the most effective way of selling the software," said JobLogic sales executive Richard Pryce.
The dedicated FAQ section is also a great tool for people interested in taking up the system, those who have just come on board and customers alike. Fully searchable, FAQ categories include General/ Sales, Support, Training, Managing Services and Managing Workforce.
To help with the user experience, the new website is responsive. This means that it responds to the browser size, displaying content in a way that the user can easily understand and navigate. In the past, users on a desktop computer would have a great experience, but Smartphones or Tablets users wouldn't always have a comparable experience.
Statistics showed that like the general consensus on the increasing popularity of mobile browsers, JobLogic.com's users were increasingly turning to Smartphones and Tablets to view the site, so the first point of action was to design the new site from the perspective of a mobile user.
With this complete, JobLogic now has a website designed for people, that is able to quickly and clearly show potential customers the great benefits offered by JobLogic's solution for service management software. By giving consumers what they want, JobLogic aims to continue being an industry leading provider of service management software.
Why not call 0800 326 5561 for more information or to book a free, interactive demo?