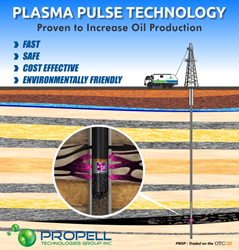 Houston, TX (PRWEB) May 15, 2014
Propell Technologies (OTCQB:PROP), the exclusive US licensee of a plasma pulse well treatment for enhanced oil recovery (EOR) will be a featured presenter at the 3rd Annual Marcum MicroCap Conference on Thursday, May 29, 2014 in New York City at the Grand Hyatt Hotel.
The Company's presentation by CEO John Huemoeller II is scheduled to run from 2:00-2:30pm eastern time and will be available via a live webcast details of which will be announced at a later time.
For updates and information on Propell Technologies please visit its corporate blog at blog.propell.com.
The Marcum MicroCap Conference is dedicated to introducing investors to the very best, undiscovered companies under $500 million in market capitalization. Launched in 2012, the annual Marcum MicroCap Conference features presentations by CEOs and CFOs from promising high-growth companies, the top picks by some of the most astute analysts following small caps, and thoughtful commentary on successful investment strategies and sectors.
This invitation-only event attracts top fund managers and qualified high net worth investors who focus on small cap equities. One-on-one meetings are available for company management teams and qualified investors.
To schedule a one-on-one meeting with management, please contact Patrick Gaynes at (713) 766-5546 or patrick(dot)gaynes(at)propell(dot)com
For more information on the conference or to register, please visit the conference website at http://www.marcumllp.com/microcap or download the free official conference app for the iPhone, iPad, or for Android mobile devices in Apple's App Store and the Google Play Market.
ABOUT PROPELL TECHNOLOGIES GROUP
Propell Technologies Group, Inc. (http://www.propell.com/), through its wholly owned subsidiary Novas Energy USA, is the exclusive U.S licensee of the Plasma Pulse enhanced oil recovery (EOR) well treatment that improves production cost effectively and without acidization, hydrofracking or other chemicals. It develops and commercializes treatment and stimulation of oil wells to meaningfully improve production and enhance the recovery of oil and gas in existing wells. For further information please visit http://www.propell.com.
ABOUT MARCUM LLP
Marcum LLP is one of the largest independent public accounting and advisory services firms in the United States. Ranked #15 nationally, Marcum LLP offers the resources of 1,300 professionals, including over 160 partners, in 23 offices throughout the U.S., Grand Cayman and China. Headquartered in New York City, the Firm's presence runs deep, with full-service offices strategically located in major business markets. Marcum is a member of the Marcum Group, an organization providing a comprehensive range of professional services spanning accounting and advisory, technology solutions, wealth management, and executive and professional recruiting. The Marcum Group companies include Marcum LLP; Marcum Technology LLC; Marcum Search LLC; Marcum Financial Services LLC; Marcum Bernstein & Pinchuk LLP; MarcumBuchanan Associates LLC; and Marcum Cronus Partners LLC. For more information, visit http://www.marcumllp.com.
SAFE HARBOR
This press release includes forward-looking statements of our current expectations and projections about future events. In some cases forward-looking statements can be identified by terminology such as "may," "should," "potential," "continue," "expects," "anticipates," "intends," "plans," "believes," and similar expressions. These statements are based upon current beliefs, expectations and assumptions and are subject to a number of risks and uncertainties, many of which are difficult to predict and include statements regarding the results derived from use of our technology. The forward-looking statements are subject to risks and uncertainties that could cause actual results to differ materially from those set forth or implied by any forward-looking statements. Important factors that could cause actual results to differ materially from those reflected in our forward-looking statements include, among others, the factors described in our on Form 10-K for the year ended December 31, 2013, and any other filings we may make with the SEC. The information in this press release is provided only as of the date written, and we undertake no obligation to update any forward-looking statements contained in this press release on account of new information, future events, or otherwise, except as required by law.
Contact:
Patrick Gaynes
patrick(dot)gaynes(at)propell(dot)com
(713) 766-5546